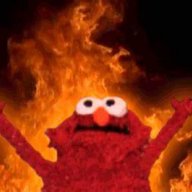 ASFN AWESOME
Supporting Member
Joined

Jan 2, 2003
Posts

75,785
Reaction score

36,118
Yeah, the Justice League doesn't seem like a priority any longer for the studio. I am a little confused by Batfleck because he said he was 100% done and now he isn't. He will also be in the Flash movie coming off the Justice League new scenes. So, it sounds like as long as it's not a solo film Batfleck is still in. The studio obviously wants more hence the new solo Batman films. They can still use the flimsy "hey it's an alternate universe" to explain away films like Joker and this version of Batman.

I think hopes of a cohesive DC universe are dead on the vine. As it stands today there are four different versions of Batman/Bruce in Titans, Batgirl, The Flash Movie and now this new Batman film running around in the DC verse. Count 5 if you also count Keaton's return in The Flash.
I think only the hardcore comic fans care about any of the above. And they've got the overwhelming majority of you guys in their pocket anyway. Regular moviegoers just probably see a new Batman trailer and either think it looks good or don't and will go based on that. It's pretty clear at this point the DC properties ain't Marvel and general public isn't expecting them to be.