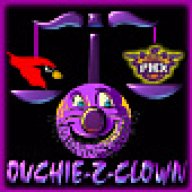 Joined

Sep 16, 2002
Posts

55,859
Reaction score

43,960
Location
Most of us, probably all of us, that were against that trade, hold that opinion because we don't want to return to that lost decade and this move almost insures it will happen (in our opinion). That isn't the same thing as being content with just having an exciting regular season and not caring about anything else. So you're way off base and yes, it is insulting. Nobody that wants to say something pleasant or even neutral about another poster reduces someone's argument to simply being a 50 and fade fan.
I'm not off base. Over the years there have literally been multiple posters that explicitly stated that.
We will just agree to disagree.
If we hadn't traded Durant what would've been your recommended path to returning to championship contender? No cap space. If make a trade you're losing either all the draft picks or bridges or cam or both. And we are likely still good enough to be 3-6 seed, so draft picks in the 20s. No apparent star out there disgruntled. What was your path?