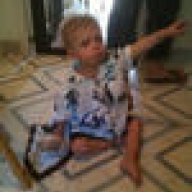 Joined

Oct 27, 2004
Posts

3,882
Reaction score

3,488
So, with all the hand-wringing and complaining about how the Bills offense never got a chance, I thought it would be fun to post ideas, serious or ridiculous.

My ridiculous (but I think it would be really exciting) idea. No coin flip. Both teams offenses start on the opposing teams 25, just like college. But this would happen at the same time.

So picture that Overtime starts. Bills Offense on KC's 25 going against KC's defense, and KC's offense on the Bills 25 going against the Bills D. The ref blows the whistle and whoever scores a touchdown first, wins the game. No 4 downs, just go until someone scores. If the Defense intercepts the pass or forces a fumble, it stops the play and the offense can't snap the ball for 10 seconds.

Can you imagine watching split screen as both teams are trying to score at the same time? Talk about frenetic crazy heart-pounding action! I'd love to see the USFL try it our just for ****'s and giggles.