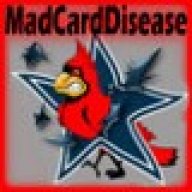 Moderator
Moderator
Supporting Member
Joined

May 13, 2002
Posts

17,387
Reaction score

4,439
Location
This is a little old but still relevant
https://www.thebluetestament.com/20...llion-fees-six-cities-drop-their-bids-detroit
Phoenix and Las Vegas Could be Next Don Garber confirmed

that "the league is still in discussions with Phoenix, the other city that submitted a bid back in 2017, and Las Vegas, which emerged as an expansion contender earlier in 2019." If those cities are let in, that would bring the league to 32 teams. Previously MLS has said they'll stop at various lower numbers, mostly recently it was 28 before it was 30. It likely won't stop as long as owners are willing to pay huge sums of money.
$600 Million Expansion Fees

If and when the amount of teams go up, expect the expansion fees to climb with it. Glenn Crooks of the On Frame Podcast

had on a guest

who claimed teams 31 and 32 would have to pay

$600 million to get into MLS

.

That is triple what St. Louis and Sacramento will pay and about double what Charlotte may pay. Not to mention 60 times what

Real Salt Lake

paid in 2005 ($10 million).
$600M sounds way too high for a MLS team. How will these new teams be able to compete against the other teams that only paid $200M a couple of years ago.
https://www.thebluetestament.com/20...ianapolis-san-diego-austin-st-louis-nashville
Charlotte, North Carolina

David Tepper — owner of the NFL's

Carolina Panthers

—

just bought his way into MLS

(The Athletic breaks down where that money goes). He paid a stunning $325 million to get in. That's $125 million more than St. Louis and Sacramento who were just announced for $200 million in recent months. Their fees were $50 million higher than

FC Cincinnati

just paid to get in. The fees are really out of control.

Another point that was confirmed is that Charlotte will jump the line and

come in with Austin FC in 2021

ahead of both St. Louis and Sacramento in 2022.