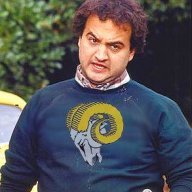 Joined

Oct 16, 2007
Posts

9,159
Reaction score

431
Location
I'd better put this here.
After the game last night the loss hit me hard(obviously) but just as i was about to give props to all my friends who are Cardinals fans for a tough win, and before i was about to come in here and give my quick and quiet props like i usually do...i got a hold of the post game presser. So now i bring this for you Coach Arians.
Is Bruce Arians the first NFL head coach in history who wants his due respect from the media? No.
Was it necessary for Brucie to use the Rams in order to get his point across? No. Especially not AFTER the game...a game he won by six points.
Not even Jim Harbaugh or Pete Carroll or Jeff Fisher have thrown pot shots across the bow
after
a victory(or loss) vs the division or anyone else. Because they know the code and because they have the ability to use an ounce of professionalism and sportsmanship and yes RESPECT...even in the heat of the moment...even if they want to stick it to the media. HC's have the right to speak their mind to the media. They can bark at the media, throw thinly veiled comments about crappy officiating...thats fine. Thats all good....but DON'T disrespect an opponent after a win.
Arians is a straight up classless turd who only had the balls to say what he did for the cameras AFTER a six point victory. I hope his team never wins another game. I'm hoping they get shellacked by Seattle next week. I hope they get a SF beatdown the week after that(and i hate those teams)...and i'm looking forward to the future coaching fraternity of unspoken backlash that could(should) come back as a result of this fat turd's comments.
And before someone comes in here with Fisher's troll of Washington at the coin toss last week...Any doucheyness BEFORE a game(Jeff Fisher guilty) is bulletin board material. Use it or shut the F up.
Right AFTER the game? Classless and WEAK.
And everyone on my Rams board will willingly attest to the fact that(before last night)...that i was the first guy to continuously inform Rams fans by giving Arians props months ago for the coaching job he was doing in AZ.
Now? I can't wait to send all his QB's into the locker room again next season too. Next man up! "You figure it out"....dick.
See you next year