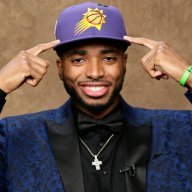 Joined

Oct 24, 2002
Posts

21,723
Reaction score

6,088
I stepped away from watching the Suns for about a month and a half because of stuff going on in life. Away from this board too. The KD business pulled me back in. In that time injures pushed Josh Okogie into more playing time. The guy is intriguing to me. I have only been able to watch highlights of him, so my knowledge is a bit limited. I would be interested in a discussion about him.

He seems to be a monster defensive player. It looks like he plays D more like a big Jevan Carter than a smaller Mikal Bridges. More physical and aggressive than Mikal. He looks almost like he might be as good or better as a defender than Mikal, but maybe Mikal is more consistent. I am not sure on that one. He is 6-4 but everyone sees him as a SF which seems strange to me. His size says SG all day long.

He seems to fill a defensive gap that Mikal left, being able to dog the other team's best 1-3 position player. He does not look like he nearly has the offense of Mikal, but he might be much more useful in a line up with KD, Book, Ayton, and Paul.

Does this kid (he is only 24) have starter potential?