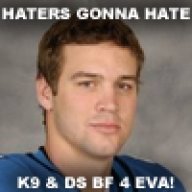 Joined

Apr 30, 2003
Posts

30,484
Reaction score

4,846
Well these people weren't politically correct if they shared this information with you then because they didn't keep it under wraps and I'm sure they wouldn't appreciate their opinion being shared on a message board.
While I don't have the greatest confidence in the Cardinals front office.
I also don't buy into the belief that every player & coach the Cardinals choose is horrible, nor do I buy into the belief that when a good player is signed by the Cards immediately he becomes awful & the players the Cardinals let a player go immediately become good again.
Like Whiz all of a sudden being this great coach or that the coaches left MUST be horrible.
There are some good prospects and not so good left out there. I could give a damn what the other 31 teams think. Whatever is the right fit is the right guy for the job.
I'll take Jay Gruden & Ray Horton over an Andy Reid & GM or Bruce Ariens & Todd flippin Bowles everytime. If it is not what the other 31 teams think is right then oh well.
Sent from Rugbymuffin's Super Phone