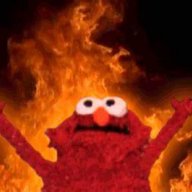 ASFN IDOL
Supporting Member
Banned from P+R
Joined

Jan 2, 2003
Posts

84,676
Reaction score

53,243
For all the Cruise shouldn't have shown up because he wasn't going to win anyway, why is he special compared to EVERYONE ELSE who showed up when Everything Everywhere kept sweeping almost every award in every award show?

That was a punk move from an egocentric schmuck who didn't want to be the butt of any jokes and couldn't face the fact that he might not have all the town's smoke blown up his ass like he and some of you thought he deserved as a human right.

That said, I will enjoy continuing to watch him try and kill himself on screen. And I don't blame him for trying to do so considering the contributions he's made to boost and defend a horrific cult that destroys people's lives without impunity.

Thinking people need to suck the crap out of Tom Cruise's butt more than people already have for the last year is comedy.