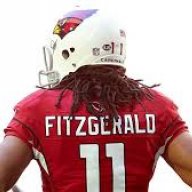 Crawled Through 5 FB Fields
Joined

Aug 10, 2005
Posts

13,405
Reaction score

2,982
Location
I am going to try to cover the defensive planning and outlooks in one thread, particularly in light of how man key pieces for the defense are already in place.

Cardinals' insider Mike Jurecki attended the Cardinals' meet and greet media session with the new assistant coaches and he came away with the following info: (1) the Cardinals are going to incorporate aspects of both the 43 and the 34 in their approach and week to week game planning; (2) the coaches are expecting LB Deone Bucannon to be their "green dot" signal caller of the defense; (3) the 3 of their own UFA players they would like to re-sign are DE Kareem Martin, LB Josh Bynes and CB Tramon Williams; (4) all players, especially the likes of Robert Nkemdiche are being give a "clean slate." But they must "follow the process" day by day and not fall behind.

If the Cardinals re-sign Martin, Bynes and Tramon Williams---then the only couple of jigsaw puzzle pieces that remain are adding a LB (to take Dansby's role) and a combo CB/S (to take Tyvon Branch's role). It would appear that Dansby will not be re-signed. Branch, on the other hand, could still be a possibility down the road depending on his ACL rehab.

DTs/DEs/OLBs:

43 Rotations:

DT---Corey Peters, Robert Nkemdiche, Rodney Gunter, Olsen Pierre, Xavier Williams, Pasoni Tasini.
DE---Chandler Jones, Markus Golden, Kareem Martin, Josh Mauro, Robert Nkemdiche

34 Rotations:

NT---Peters, Williams, Gunter, Tasini
DE---Nkendiche, Pierre, Gunter, Peters, Williams, Tasini
OLB---Jones, Golden, Martin, Bryson Albright (6-5, 235), Vontarrius Dora (6-4, 256), Praise Martin-Oguike (6-1, 256)

Possible UFA Additions (with Carolina connections):

* DT Star Lotululei (6-2, 320, 6, Utah)---former 1st round pick who is a deluxe run plugger.
* DE Charles Johnson (6-2, 275, 12, Georgia)---rumored to be a cap casualty and could be a valuable rotation DE.

Draft Needs: Low (adding another edge or interior rusher might be in the plans)

Analysis: The Cardinals have strength in numbers and versatility all up and down the front 4. Peters is a stalwart in the middle and Nkemdiche, Pierre, Gunter and Williams are all on the verge of becoming impact players. With the return of a healthy Markus Golden, the edge rush ability from All Pro Chandler Jones and him is prolific. Add a stronger more explosive Haason Reddick to this mix and the Cardinals might challenge for the league lead in sacks. Would love to see them ad another rusher to the rotation like Charles Johnson, because it would be great to keep legs fresh for the 4th quarters where we need the big boys up front to close out games.

LB:

43

SOLB Josh Bynes
MLB Deone Bucannon
WOLB Haason Reddick

Here is one of the bigger question marks---which players fit best in the 3 roles? In giving Deone Bucannon the green dot, do they believe he can play the MLB?

Need: High (imo)

UFA MLB Possibilities: Todd Davis (Broncos), Zach Brown (Redskins), Preston Brown (Bills), Demario Davis (Jets), Avery Williamson (Titans)
Draft MLB Possibilities: Tremaine Edmunds (Virginia Tech), Roquan Smith (Georgia), Rashaan Evans (Alabama); Leighton Vander Esch (Boise St.), Micah Kizer (Virginia), Jerome Baker (Ohio St.), Josey Jewell (Iowa), Azeem Victor (Washington), Jason Cabinda (Penn St.)

UFA OLB Possibilities: Nigel Bradham (Eagles), Tahir Whitehead (Lions), Christian Jones (Bears), Kevin Pierre-Louis (Chiefs)
UFA OLB Possibilities: Malik Jefferson (Texas), Darius Leonard (South Carolina St.), Ogbonnia Okoronkwo (Oklahoma), Lorenzo Carter (Georgia), Dorian O'Daniel (Clemson), Hercules Mataafa (Washington St.), Matthew Thomas (Florida St.), Marquis Haynes (Mississippi), Skai Moore (South Carolina), Shaquem Griffin (Central Florida)

Analysis: The chief concern is Bucannon. The Cardinals are investing a lot of money and responsibility in a player who significantly under-achieved through most of the past two seasons. Not only does Bucannon struggle with run diagnosis, he doesn't sift through traffic particularly well and has yet to show he can be a legit factor in pass coverage, especially defending the seams quickly enough in zones (which is a staple of Wilks' defense). His PFF grade this year was a career low of 37.8, ranked as the #78 LB. LBC Larry Foote believes in Bucannon, but if Bucannon remains a weak link in the defense, Foote should be relieved of his duties as LB coach. Bynes was far better than Bucannon and it shows in his 76.2 PFF grade. Bynes is a better tackler and is stronger in coverage. Reddick fits Wilks' LB mode with his speed and versatility.

34

LOLB Golden, Reddick, Dora
LILB Bucannon, Bynes, Scooby Wright
RILB Reddick, Bynes, Gabe Martin
ROLB Jones, Martin-Oguike, Albright

Do the coaches move Bucannon to Dansby's ILB spot and Reddick to $LB?

Again, adding an ILB to this mix is imperative.

Secondary:

LCB Patrick Peterson, Lou Young, C.J. Goodwin
SS Budda Baker, Tyrann Mathieu
FS Antoine Bethea, C.J. Goodwin, Rudy Ford, Harlan Miller
RCB Tramon Williams, Brandon Williams, Ronald Zamort

Nickel CB: Mathieu, Baker, Young, Jarrell Carter

Need: Low (adding a combo CB/S to cover TEs and taller WRs like Tyvon Branch did might make sense---perhaps C.J. Goodwin and Lou Young can manage that role).

Draft Combo CB/S possibilities: Carlton Davis (Auburn), Isaiah Oliver (Colorado), Tavarus McFadden (Florida St.), Justin reid (Stanford), Ronnie Harrison (Alabama), Jaire Alexander (Louisville), DeShon Elliott (Texas), Kamari Cotton-Maya (Iowa St.), Marcus Allen (Penn St.), Dane Cruikshank (Arizona)

Analysis: The Cardinals are going to be playing a good deal of zones in Wilks'/Holcomb's system. New secondary coach David Merritt is going to be instrumental in developing the players' zone and man-to-man skills. The returning players struggled in zones all of last year---poor communication and very loose and slow in picking up coverage. There could be a couple of surprises in players who adapt to Merritt's outstanding teaching more quickly and ably than others. Merritt, like Wilks, expects his players to play a physical brand of football in run support and coverage. Furthermore, one might imagine that the Cardinals will start to do what a number of other teams do in man coverage---which is to bracket the #1 WR with the #2 CB and high safety and to put the #1 CB (Peterson) on the #2 WR. if the Cardinals do, then Peterson could get more balls thrown his way this year, which he intends to make the most of this year. This defense will be focused keenly on creating and cashing in on turnovers.

Contract Question Marks:

* Tyrann Mathieu---early indications are that the Cardinals intend to award Mathieu his $5M roster bonus which kicks in $19M in guaranteed money for the next couple of years. The feeling is that Mathieu played stronger the second half of last year and is on the verge of returning to the Honey Badger of 2015.

* Deone Bucannon---as of right now the Cardinals intend to pay Bucannon $8.7M on his option year this year. Quite frankly, that figure is excessive in light of Bucannon's inconsistent play the past two years.

* Josh Mauro---his cap figure for 2019 is $3.2M which also seems excessive coming off a disappointing year. Mauro, if rejuvenated, could be a great, versatile fit in Wilks'/Holcomb's defense, which makes the prospect of releasing him tenuous.

Decisions (imo): Rework each of their contracts. If the players and their agents balk, try to trade them or release them. Mathieu's contract is the elephant in the room and is going to prevent the Cardinals from adding key pieces, particularly on offense. Bucannon is no sure thing, imo, and it's unclear whether he can be the green dot leader and the consistently productive ILB the coaches want and need him to be. Mauro doesn't deserve $3.2M and it's time to stop paying for potential on the back end of what was a generous contract.

Are there any details I missed? Any questions about a player or scheme? Suggestions? Do you want more detailed posts about the position analyses, or does this suffice?
Last edited: