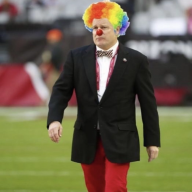 Joined

Feb 14, 2003
Posts

34,013
Reaction score

20,004
Location
The 2022 Arizona Cardinals are boring. Extremely boring. Their running game lacks pop. Their passing game lacks explosion despite investing heavily in skill position players through the draft, free agency and trades.

The defense lacks an attitude or identity. The to best players are safeties, but they can't make plays like some of their competitors because they're constantly having to cover the backside for limited cornerbacks and linebackers. The defensive line lacks any character outside of J.J. Watt (who everyone understands is a ticking clock before he makes a trip to IR so we're enjoying him while it lasts). Every game seems like the first game they've played together.

It was clear this past offseason that the organization's intent was to just try and run it back with the same group of players, hope the 10-2 start was not a mirage, and load manage our way through the first half of the year to prevent a collapse. The result has been that we carried the collapse from the end of last season into the new year. No one cares; everyone's expecting someone else to come to the rescue.

Kyler Murray is averaging 5.6 yards per passing attempt this season. James Conner is averaging 3.0 yards per carry and on pace for six touchdowns after scoring 18 last year. We can't win a game at home.

Yikes.

Heroes
Budda Baker, S

- Eight tackles and a forced fumble is pretty nice work. Baker is so slippery and truly an evolutionary Adrian Wilson in the backfield. It would be good to see him liberated to do more by stronger secondary play.

Will Hernandez, RG

- The one thing that you can respect Kliff for is his commitment to pace. The Cards played 83 offensive snaps, and Will Hernandez participated in every one of them while also holding Aaron Donald largely in check.

Vance Joseph, DC

- The Arizona Defense held the Rams to their season average in points. In the second quarter the defense held the ramps to three consecutive three-and-outs. This happened while Jace Whittaker was playing 94% of the defensive snaps and Isaiah Simmons played one more snap than Ben Niemann. In unrelated news, Dennis Gardeck can be released at the start of the 2023 league year to save a little over $2.4 million on the salary cap.

Goats


Zaven Collins, ILB

- Has shown real Kevin Minter traits as he's been integrated into the defense. I've said it many times -- elite inside linebackers showcase their skills almost immediately when they move up to the next level. Maybe Zaven can continue on in Minter's footsteps. It's not his fault that Keim drafted him where he did. But there's little evidence that anyone on the defense looks to him.

Kliff Kingsbury, HC

- I don't mind Kliff's press conferences, TBH. He takes the responsibility on himself, doesn't point the finger, doesn't push blame anywhere. It's true that they have to get better. But he's starting to act like he doesn't belong here, and that's a big problem. If Kyler didn't respect him when he had a little swagger, he might actively undermine him when he looks this shook.

Kyler Murray, QB

- Athletes who truly want to pursue greatness spend each offseason adding something new to their game. You hear this in basketball all the time. It was obvious last year that this offense needed to get better at situational football and not looking panicked in the two-minute offense. This week, Kyler didn't look panicked, he looked like he wasn't much interested in the final outcome. Someone posted a tweet that said that there isn't a quarterback that looks less interested in winning than Kyler Murray. Couldn't agree more.