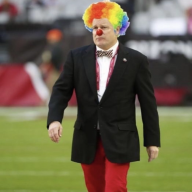 Joined

Feb 14, 2003
Posts

34,857
Reaction score

22,092
Location
My family scheduled a 4 pm MST happy hour. When I told them the Cards game would still be on during that time, the organizer replied "Well, maybe, but based on the way they've been playing, it'll probably be over by then."
When my 13 year old son came downstairs as the game was starting, he said, "Oh no. Not this," and then walked back upstairs.
Cardinals football 2022 -- Something something bird city. This was the kind of game that the fanbase should be excited for -- an opportunity to kick a division rival while they're down, in their house, and potentially kick-start a rise from the ashes in the second half of the season. Instead, it felt like a bad joke, where much of the marquee talent on the roster decided to take the day off.
If the Cards do rally and make a run at the playoffs, this game where both teams seemed to be sleepwalking is going to count just as much as any other.
You must be registered for see images attach
Colt McCoy, QB
- A workmanlike performance that will be good enough to win against a lot of bad teams. What's valuable is that in 10 real drive the Cards only had three three-and-outs, and only one in the second half. That helps create a rhythm on the offense.
Rondale Moore, WR
- Of Rondale Moore's 12 targets, 11 of them were charted as "short." As much as people complain about Kliff's Horizontal Spread scheme, this short passing game can be effective if the ball is placed in a way that allows the receiver to move immediately.
Budda Baker, S
- Baker has been an absolute star on the field and off. He found a way to not only play in the face of what must be an extremely painful ankle injury, but to excel.
You must be registered for see images attach
​
James Conner, RB
- I don't really blame Conner for signing a big contract extension this season, but he's playing below replacement-level when he's not injured. There are a lot of minimum-salary guys who can get less than 4 YPC and convert in short yardage.
Antonio Hamilton, CB
- It's safe to say that when you're targeted often enough to get 10 solo tackles and two passes defensed that there's something on film that teams are looking to take advantage of. Hamilton and Vance Joseph are going to have to button this up.
Trey McBride, TE
- Russ Smith's favorite offensive player stepped in it again. Played 91% of the snaps after Ertz went down and fumbled in his one (official) target. He had another 10-yard reception erased by a penalty.