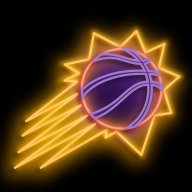 Joined

Mar 8, 2015
Posts

10,893
Reaction score

8,330
If LAC are seriously interested in Paul, they will have to trade for him because the LAL can offer him more and playing with his buddy Lebron makes them the favorites should Paul get waived. Powell will be 31 next year and has three years left on his deal at nearly $20M a year while Paul is essentially an expiring contract so it helps them with their cap situation and they still have Mann & Hyland.

BOS doesn't take on that much in additional salary (around $3M) and actually gets younger with Ayton. Ayton's deal is for 3 more years, Smart has 3 years left on his and Williams has 3 as well so BOS isn't taking on any longer term contracts than they already do. Their cap situation depends on what they do with Jaylen Brown and his upcoming contract which will be huge because he made an All NBA Team. Plus, BOS is paying nearly $60M a year for 3 PGs, they need to balance out their cap to other positions.

Thinking about it, I was wrong about Shamet for Wright swap. Wright is not the player he was with TOR, Shamet has more value that a 31 back up PG who wouldn't be an upgrade over Payne. Shamet would provide a young shooter off the bench which could be of value for any team. I wouldn't be opposed to keeping Shamet especially if they can't find a replacement shooter to fill out the bench with. I don't think PHX is bringing back Ross or Warren.
If the Clippers want Paul, they are going to offer mostly crap.
Best offer would probably be like Marcus Morris and Batum, they aren't going to give up a player who due to their injury issues is usually their 2nd best for another super injury prone 39 year old Chris Paul.