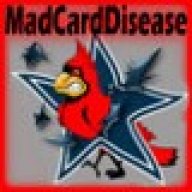 Moderator
Moderator
Supporting Member
Joined

May 13, 2002
Posts

19,268
Reaction score

9,959
Location
Got to go see my first practice today. I thought it was a great experience and totally recommend checking it out if you can.
Some of my notes:
Fitz was catching everything during then one on one drills in the endzone drawing cheers from the crowd.
Michael Floyd looks so much better than at this point last year. I can really see the potential there.
PP lookeded great in coverage on the one on one drills. Was on the receivers like glue.
Speaking of PP, I was shocked at how much time he got with the offense. All of a sudden you would see a guy with a white smock pulled over his jersey running routes. Then after the play was over he would rip it off and line up on defense. The dude is a pure athlete and never looked tired!
DC Jefferson drew the ire of Coach Arians after jumping offsides. This was the second time in a row that someone on the offense jumped and I though Arians head was going to explode.
I thought Jim Dray looked pretty solid out there catching passes.
Housler had a drop that he should have caught.
Offense looked pretty sloppy during the 11 on 11 drills.
Alphonso Smith is playing like a man on a mission and it shows. Ryan Williams better be worried.
Karlos Dansby made a nice play to almost intercept a pass. It's great to see him out there but I kept forgetting he now wears #55.
Ellington missed an assignment allowing an easy sack for the defense.
Jaron Brown made some nice catches. Then on one series had one drop after it hit him in the chest because he didn't turn his head fast enough and then on the next play let one bounce off his hands for an easy INT.
Jay Feely hit all of his field goals.
Will Baston is a terrible punter and Zastudil has nothing to worry about.
Overall my impression is the Offense has a ways to go. This was especially clear during 11 on 11. It just didn't seem that the QB and the WRs were on the same page. I watched the offense more than the defense so I can't really comment much on them.