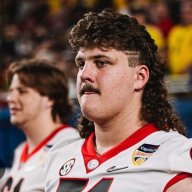 All In!
Supporting Member
Joined

Mar 28, 2003
Posts

17,673
Reaction score

3,858
Location
That was my thought. Too much bulk might slow him down. Pumping iron to this extent has never been necessary for QBs. It makes me wonder--and it is pure speculation--if he enjoys being a gym rat too much and doesn't enjoy the other parts of being a QB, namely studying and film.
I'm 44 years old, recently added 15 pounds of muscle and pr'd my adult 40 time at 4.54. My legs feel stronger and faster with my new frame and I'm see less injuries. To say it'll slow him down is absolute hogwash and not how the body works.
Now, if he were running an ultra marathon, you'd have a point.