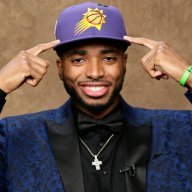 Joined

Oct 24, 2002
Posts

21,647
Reaction score

5,991
I just listened to a James Jones interview on the way to the office. It was one of the best interviews of a GM I have ever heard--not because I agree, but because the interviewers asked the right questions and JJones was very candid with the answers. It was the Doug and Wolfe interview this morning. I would suggest listening to it when it gets posted to their website. Here is a synopsis.

1. He always considers team need and fit when drafting, not just BPA or potential. His reason is that a young player cannot develop while sitting at the end of the bench. If you force a young player into your rotation to develop him, you alienate your veterans and team leaders.
2. His focus is always on building a team, not just developing players.
3. He doesn't care if draftees get better numbers with other teams. There is much more to a player's value than individual stats.
4. Mental toughness is a big part of what they look for in a player.

I am not saying I agree with him totally, but he clearly has a philosophy that grows out of being a veteran player in this league. It makes it easier to predict what he is going to do based upon this. I think it also tells us that while he might be a good GM for the moment, he will be a problem when it is time to blow it up and rebuild.

James Jones is the polar opposite in philosophy to McD. Based upon this philosophy, he would never have drafted Chriss or Bender for instance, and probably not Josh Jackson. He will draft players that make the league and contribute but will miss out on the young superstar types.