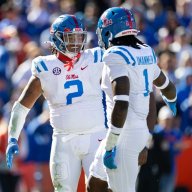 Joined

Jan 28, 2015
Posts

11,420
Reaction score

18,177
Have you actually listened to the comments either time he has shared them?
No, I just made it up in mind as I was listening to Bobby Womack.
He says he feels Kyler has what it takes to be a leader and he has shown some progress, but in his opinion (which he and others are entitled to have, right?) he feels Kyler needs to grow up and be a man. Step up even more and be a strong leader. He says he feels he has it in him.

Everyone took the comment about growing up and ran with it which is the only reason he repeated it when asked about it in another interview. Personally, I like a guy like Beachum who says what he feels and doesn't back down or try to redefine what he previously said. He said what he said and he stands behind it.
Yea, you like the high school female mindset of gossiping & airing out dirty laundry in public instead of acting like grown men & handling your business in private.
I'm not sure how any "grown man" is cool with what Beachum is doing, but hey, do you. I hate that Hollywood retaliated & stooped to Beachum's level.
Maybe it's just a generational thing. Maybe that's what you were used to growing up. I'm clearly not with your generation(or many others on here), but if I got beef/tension/criticism with a teammate, we will handle whatever conflict behind closed doors. Don't be a weirdo/female & put me on blast. Especially if we're teammates.