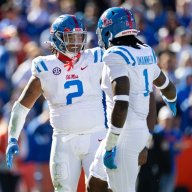 Joined

Jan 28, 2015
Posts

9,314
Reaction score

12,592
Teryl Austin worked here for three seasons as a DBs coach. He later was DC for three teams in the NFL.
James Bettcher rose to DC
Mike Caldwell was an ILBs coach here and is now the Jags DC
Byron Leftwich started out as an intern here

Blaming the coaching or the fit is fine for the player, but it's the role of the GM to find players that his coaching staff can use. If it happens over and over with your top prospects, it's probably a problem with your evaluation process.

Too soon to tell with Rondale Moore or Zaven Collins, TBH. It seems like Keim makes the same mistakes again and again with toolsy prospects who don't have a real position in the NFL. Reddick, Bucannon, and Simmons are all essentially efforts to chase the ghost of Daryl Washington.

I think when your mid-round picks consistently fail to earn second contracts, it's an indication that you're doing a bad job evaluating your talent either at the top of the funnel as prospects or at the bottom of the funnel when you decide you can upgrade them with older and more expensive free agents.
Probably a little off topic, but with the removal of QB, I can't even say our talent on paper is better than Seattle's, tbh.