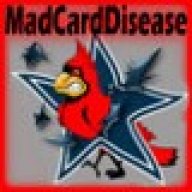 Moderator
Moderator
Supporting Member
Joined

May 13, 2002
Posts

19,081
Reaction score

9,212
Location
Were this true, it would be much worse of a signing and basically giving up at the position. If this JAG is playing as #2...oof.

Thankfully I don't think the team is trying to put that much on the kid's shoulders. Cheap solid depth that can play special teams. In that frame, it would be an okay signing.
Obviously the offense is going to look a lot different than the college spread stuff that Kliff ran. I expect to see a ton more 12 and 13 personnel in a run heavy offense this coming season. I expect the Cardinals to bring in another FA TE and a draft a TE this year as well.
Pascal adds a physical enforcer at WR that will help in the run game. He runs great routes. Because of these attributes I think he will see more time on the field than many are expecting. A lot of his contributions won't show up on his personal stat sheet. However I would expect a 600yrd 5TD season if you are looking to project stats from him next year. This is assuming that the Cards trade DHop.