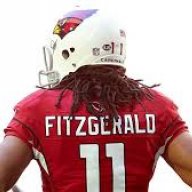 Crawled Through 5 FB Fields
Joined

Aug 10, 2005
Posts

13,405
Reaction score

2,982
Location
Blue: Starters
Red: Backups/Actives
Green: Bubble
55 Abraham, John OLB 6-4 263 36 15 South Carolina
94 Acho, Sam OLB 6-3 257 25 4 Texas
97 Alexander, Loren OLB 6-1 244 30 8 California
86 Ballard, Jake TE 6-6 275 26 4 Ohio State
35 Bauman, Zach RB 5-7 196 21 R Northern Arizona
59 Benard, Marcus OLB 6-2 256 28 5 Jackson State
28 Bethel, Justin CB 6-0 190 23 3 Presbyterian
64 Blake, Philip C/G 6-3 310 28 2 Baylor
13 Brown, Jaron WR 6-2 205 24 2 Clemson
12 Brown, John WR 5-10 179 24 R Pittsburg St. (KS)
52 Brown, Jonathan ILB 6-1 240 21 R Illinois
36 Bucannon, Deone S 6-1 208 21 R Washington State
81 Buckner, Dan WR 6-5 215 23 1

Arizona




93 Campbell, Calais DE 6-8 300 27 7 Miami (Fla.)
89 Carlson, John TE 6-5 248 30 7 Notre Dame
56 Carson, Glenn ILB 6-3 238 23 R Penn St
7 Catanzaro, Chan K 6-3 208 23 R Clemson
44 Clayton, Keenan ILB 6-1 230 26 4 Oklahoma
61 Cooper, Jonathan G 6-2 312 24 2 North Carolina
34 Cornett, Tim RB 6-0 210 22 R UNLV
31 Cromartie, Anton CB 6-2 210 30 9 Florida State
54 Demens, Kenny ILB 6-1 242 24 1 Michigan
53 Dickson, JoJo ILB 6-1 245 24 1 Idaho
90 Dockett, Darnell DT 6-4 290 32 11 Florida State
60 Draheim, Tom C 6-4 309 25 1 San Diego State
20 Dwyer, Jonathan RB 5-11 229 24 5 Georgia Tech
38 Ellington, Andre RB 5-9 199 25 2 Clemson
74 Fanaika, Paul G 6-5 327 28 5 Arizona State
4 Feely, Jay K 5-10 208 38 14 Michigan
85 Fells, Darren TE 6-7 281 28 1 California-Irvine
11 Fitzgerald, Larry WR 6-3 218 30 11 Pittsburgh
15 Floyd, Michael WR 6-3 225 24 3 Notre Dame
50 Foote, Larry ILB 6-1 239 33 13 Michigan
75W Gaston, Bruce DT 6-2 308 22 R Purdue
19 Ginn, Ted WR 5-11 185 29 8 Ohio State
10 Golden, Brittan WR 5-11 186 25 2 West Texas A&M
80 Hardy, Andre TE 6-6 245 27 1 Cal-State Fullerton
84 Housler, Rob TE 6-5 250 26 4 Florida Atlantic
2 Hrapmann, Dan K 5-9 164 25 1 Southern Mississippi
39 Hughes, Robert RB 5-11 235 24 2 Notre Dame
22 Jefferson, Tony S 5-11 212 22 2 Oklahoma
65 Johnson, Christia G 6-4 330 27 1 Kentucky
33 Johnson, Orhian S 6-3 211 24 1 Ohio State
26 Johnson, Rashad S 5-11 204 28 6 Alabama
62 Larsen, Ted C/G 6-2 305 26 5 NC State
82 Leach, Mike LS 6-2 235 37 15 Wm and Mary
42 Lewis, LeQuan CB 5-11 190 25 2 Arizona State
14 Lindley, Ryan QB 6-4 230 24 3 San Diego State
96 Martin, Kareem DE 6-6 272 22 R North Carolina
70 Massie, Bobby T 6-6 316 24 3 Mississippi
32 Mathieu, Tyrann S 5-9 186 22 2 LSU
23 McCann, Bryan CB 5-11 185 26 5 Southern Methodist
95 McCloud, Anthony DT 6-2 313 24 1 Florida State
51 Minter, Kevin ILB 6-1 245 23 2 LSU
87 Niklas, Troy TE 6-6 270 21 R Notre Dame
57 Okafor, Alex OLB 6-4 260 23 2 Texas
3 Palmer, Carson QB 6-5 235 34 12 USC
69 Palmer, Kelvin T 6-4 302 23 R Baylor
21 Peterson, Patrick CB 6-1 219 23 4 LSU
17 Pope, Kelsey WR 6-0 198 22 R Samford
76 Potter, Nate T 6-6 300 26 3

Boise State


83 Powell, Walt WR 6-0 187 22 R Murray State
25 Powers, Jerraud CB 5-10 187 26 6 Auburn
73 Renfrow, Justin DT 6-6 310 24 R Miami
98 Rucker, Frostee DE 6-3 280 30 9 USC
63 Sendlein, Lyle C 6-3 308 30 8 Texas
43 Sermons, Brand CB 5-11 190 22 R UCLA
91 Shaughnessy, M OLB 6-5 285 27 6 Wisconsin
18 Smith, Kevin WR 5-11 214 22 R Washington
79 Sowell, Bradley T 6-7 315 24 3 Mississippi
5 Stanton, Drew QB 6-3 243 30 8 Michigan State
71 Steen, Anthony G/C 6-3 309 24 R Alabama
72 Stinson, Ed DE 6-3 287 24 R Alabama
66 Ta'amu, Alameda DT 6-3 348 23 3

Washington




27 Taylor, Curtis S 6-2 212 28 3 LSU
30 Taylor, Stepfan RB 5-9 214 22 2 Stanford
6 Thomas, Logan QB 6-6 250 22 R Virginia Tech
47 Tracy, Adrian OLB 6-2 248 27 3 William & Mary
67 Tupou, Christian DT 6-2 300 25 2 USC
68 Veldheer, Jared T 6-8 321 26 5 Hillsdale
37 Walters, Anthony S 6-1 207 25 4 Delaware
16 Washington, Cor WR 6-4 214 22 R Newberry
58 Washington, Dar ILB 6-2 230 27 5 TCU
48 Washington, Tod CB 5-11 196 22 R Southeast Louisiana
78 Watford, Earl G 6-4 295 24 2 James Madison
41 Whitley, Eddie CB 6-0 188 24 1 Virginia Tech
9
2 Williams, Dan DT 6-2 327 26 5
Tennessee
75R Williams, Kadee T 6-7 320 22 R Albany
29 Williams, Teddy CB 6-1 207 25 3 Texas-San Antonio
9 Zastudil, Dave P 6-3 220 35 13 Ohio U.
First Teams:
QB Palmer
RB Ellington
TE Carlson
WR Fitzgerald
LT Veldheer
LG Cooper
OC Sendlein
RG Fanaika
RT Sowell
TE Niklas
WR Floyd
WR Ginn
DE Dockett
NT Williams
DE Campbell
LB Shaughnessy
LB Minter
LB Washington
LB Abraham
CB Peterson
SS Bucannon
FS Mathieu
CB Cromartie
CB Powers
LS Leach
PK Feely
PT Zastudil
Second Teams
QB Stanton (Thomas)
RB Taylor (Dwyer)
TE Ballard
WR Ju. Brown
LT Sowell
LG Watford
OC Larsen
RG Watford
RT Massie
TE
WR Jo. Brown
DE Stinton
NT Ta'amu
DE Rucker
LB
LB
LB Foote
LB Martin
CB Bethel
SS Jefferson
FS Johnson
CB Powers
Bubble:
OT Potter
OT Williams
OG Johnson
TE Fells
TE Hardy
WR Powell
WR Buckner
WR Golden
RB Hughes
RB Bauman
RB Cornett
DT Gaston
DT McCloud
DT Renfrow
DT Tupou
LB Acho
LB Alexander
LB Demens
LB Dickson
LB Okafor
LB Tracy
LB Brown
CB McCann
CB Williams
CB Lewis
CB Sermons
CB Whitley
SS Taylor
SS Johnson
PK Hrapmann
Pre-Mini Camp Prediction:
QB (3): Palmer, Stanton, Thomas
RB (4): Ellington, Taylor, Dwyer, Bauman*
TE (4): Carlson, Niklas, Ballard, Fells*
OL (8): Sendlein, Cooper, Fanaika, Veldheer, Sowell, Larsen, Watford, Massie
WR (6): Fitzgerald, Floyd, Ginn, Jo. Brown, Ju. Brown, Powell*
DE: (5): Dockett, Campell, Martin, Rucker, Stinson
NT (2): Williams, Ta'amu (Gaston*---if Ta'amu is on PUP)
LB (8): Shaughnessy, Minter, Washington, Abraham, Acho*, Alexander*, Foote, Benard
CB (6): Peterson, Cromartie, Powers, Bethel, McCann*, Sermons*
SS (2): Bucannon, Jefferson
FS (2): Mathieu, Johnson
ST (3): Leach, Felly, Zastudil
Why:
RB: Bauman makes it over Hughes because we already have two bangers in Taylor and Dwyer, and Bauman fits the Juke mold. It's possible that Hughes might beat out Dwyer, especially when STs are factored in.
TE: Housler is very likely to be traded---why---because he heads into the 4th year and they could get something in return for him. Plus, they are very high on Fells and Hardy.
OL: Only 8? Well, the trio of Larsen, Watford and Massie and the ability to switch Sowell over to LT in a pinch, gives double depth at C, G and T. They will keep 2-3 OL on the practice squad.
WR: Walter Powell makes it on STs. The Cardinals see something big in Powell...otherwise, of all the talent remaining on the board in the 6th round they wouldn't have taken Powell. They knew that the Jets had worked out Powell and were very high on him as a WR in the Santonio Holmes mode.
NT: This kid Gaston from Purdue is a load---and he played well in the East-West Shrine game. He gets the nod until Ta'amu is back to 100%.
LB: Acho is the likely backup to Shaughnessy at 34LOLB. Benard is the nickel rusher at LDE. Alexander and Foote will be counted on as veterans, although they have to stay healthy. Right now the odd man out is Okafor, who needs to make a splash. Adrian Tracy is a speed guy who can cover too---and he is guy who could move up the charts. Demens, Dickson and Connor have to unseat the veterans...and a sleeper here at LB is UCFA Jonathan Brown who played well at the Senior Bowl. For now I am sticking with the veterans, especially with Washington facing suspension, but I could see Todd Bowles becoming enamored with a couple of the young guys.
CB: McCann should be valuable behind Powers in the nickel and this kid Sermons is not only a talented CB he's an excellent gunner on STs. He has to beat out Teddy Williams and right now I am guessing that he will, although if Williams shows he can cover TEs, Williams will make the roster for sure.
SS: I think it is quite possible that as they did with Tyrann Mathieu, the coaches may wait a couple games before they start Deone Bucannon, in favor of starting Tony Jefferson who has some experience. Bucannon, like Mathieu last year, should be a factor in the nickel immediately. The one depth guy here who could make a push for the roster is Curtis Taylor. They love how big and physical he is. But, he has to show quicker awareness and cover instincts.
Last edited: