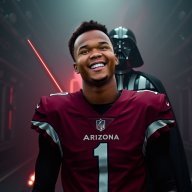 Joined

May 28, 2002
Posts

7,029
Reaction score

3,375
You still believe this after sleeping on it?
A few things were/are in play after that.
#1 we traded back up. Who knows who's there at 12 and what we pick there?
Also, we don't know what the 2024 first-round pick is. #1 and #20 have completely different values.
I wasn't saying it was, it had the potential to be, if other things fell into place (the wrong way). I was offering a scenario, not a firm belief that will happen. Just saying 'our luck' type thing. It was absolutely a valid question at the time. (totality of events, not just the trade itself, but how that Suggs trade determined the draft, now we had the initial trade and the loss of the 3rd rd pick because of the tampering. Maybe it wasn't clear, but that's what I meant)
If we ended up with a 3rd or 4th OL men taken and then the #20 pick next year, well, it fits. #17 and #18 is better when compared to #12 and then say #20 next year. We also didn't have clarification on which pick, theirs or Browns. Plus the loss of the 3rd.
The good thing is, we traded back up, got the #1 OT and we see where that #1 pick lands.
Last edited: