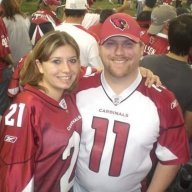 Joined

May 15, 2002
Posts

25,082
Reaction score

29,862
Location
Of course I san argue this has changed while holding Kyler to what he said. They aren't remotely the same thing.

Caldwell was never quoted. It was a rumor based on him turning down an interview with the Commanders. And it's perfectly reasonable for him to prioritise head coaching jobs at the beginning of the hiring cycle if that is his preference.

It's also perfectly logical that now it's clear that he's not getting a HC job that his position might change. His options are now sit at home (which he has done since 2019) or take what he can.

I'm not sure how that's remotely connected to Kyler's own words that have been correberated by leaks from players saying his study has been poor. Words you yourself believe to be true.
Sources telling a reporter what Caldwell told them is no different than you reading an article by someone quoting what Kyler told them. There just isn't a New York Times article broadcasting the conversation.