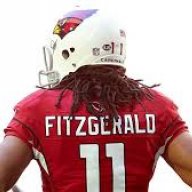 Crawled Through 5 FB Fields
Joined

Aug 10, 2005
Posts

13,405
Reaction score

2,982
Location
When I read the pundits' so-so off-season grades and "just another guy" determinations of the Cardinals' roster, I try to shrug it off, but I feel as if the Cardinals are not getting anywhere near the credit they deserve for what they have accomplished over the past few months.
To me what the Cardinals have accomplished is brilliant.
Bruce Arians is a breath of fresh air. He's quirky and outgoing...and some people don't know how to feel about that. He talks his players up...some of the very same players, like Levi Brown, who have received incessant scrutiny and disapproval from reporters and fans. But...what makes Arians so appealing is that he has a definite plan, he knows very specifically what he wants (there are no gray areas there---he is one QB coach, he doesn't use FBs or spread options or RBs in pass routes, and he wants to set up 6-7 deep shots a game by running a steady diet of quick three step passes in order to inch the safeties and CBs up...)...and yet his most compelling attribute is his ability to look players in the eyes and convince them of how good they can be as Arizona Cardinals under his and his remarkable staff's supervision and teaching.
When free agents meet with BA and Steve Keim, they want to sign.
Not only that---the enthusiasm that BA and Steve Keim generate has the players all fired up, and it's only April.
Best of all, the eye isn't just on being good---the eye is on the prize: a ring.
It's what every coach, GM and player strives for---it's just that some talk the talk and the real winners walk the walk.
BA can talk the talk with the best of them---cynics will say he's a slick used car dealer.
But---what the cynics fail to realize is the reason why BA is so confident when he talks the talk. It's a simple as this: the proof is in the way in which we will coach, teach and prepare this football team. No one will work harder or more fastidiously at it. No one.
BA, Steve Keim and the signings and trades:
First of all, what is so impressive about BA is that for a first year HC who is an offensive guru by trade, he has gone out of his way to fortify the Cardinals' defense and special teams.
BA truly believes that his DC, Todd Bowles, will be a head coach one day, and BA wants to do all that he can to feather Bowles' nest.
He and Steve Keim made the tough decisions to let popular players go either because they were not playing up to their high standards or they were commanding too much in the way of salary.
You will be amazed at the results.
When I was appointed English department chair three years ago, I found myself in a very similar situation. I had three veteran teachers who had been doing their own thing---they were not teaching the curriculum like the rest of us were, and they were grossly overpaid. As a result, the morale in my department amongst the good soldiers was understandably poor. We clearly were not a united team. There was a great deal of dissent.
It was tough to do---but, with the help, encouragement and support of my administration we managed to push the three teachers out the door and replace them with three able, good and team-oriented teachers.
Since then, not only has the morale in the department been as high as it ever has been, and the teamwork in teaching the curriculum as united as it ever has been, our students' test scores have shown dramatic improvement to the point where half the senior class now scored "advanced" on the MCAS (State wide test) and the senior class' SAT scores jumped 30 points higher on average. I've never seen anything like that. You hope for a 3-4 point improvement on average...but 30 points?
Consistency, teamwork and a united morale does wonders.
While I won't take you through each one of the free agent signings to explain the rationale---because I think that by now you see the rationale...let me instead take you through BA's first UFA signing of LB/ST ace Lorenzo Alexander and what it means to the plan and to the equation. Take a look at this recent article in the Washington Post:
http://www.washingtonpost.com/sport...f5a396-a3ad-11e2-82bc-511538ae90a4_story.html
When you are trying to build a winner---you want to sign players like this.
That was BA's and SK's first step.
Then adding as many solid players as they have at very reasonable salaries---and even orchestrating the first major BA SK trade, the Carson Palmer trade, and not even losing a draft pick (swapping a 6th with a 7th)---and then re-signing Palmer to a very reasonable contract that made both Palmer and the Cardinals happy---
Best of all, no sooner was Palmer acquired than he was out training with his new teammates---he went on the job immediately, the same way BA himself did.
No one would have complained if Palmer said he needed a few days to collect his things and get organized for a move---but Palmer was genuinely too excited and already too invested in his new team to do that.
I think of what Rashard Mendenhall said about his visit to Arizona and how he and the cadre of UFA invitees to the Cardinals' headquarters that day were already bonding...and I think to myself, when have we ever heard something like that before?
Then to hear that BA advised RM that if he was going to get on a plane to Denver, then the offer was off the table---and how he said to CB Jerraud Powers, "you're not going to San Diego"...etc., etc.
And when a rare one got away in MLB Rey Maualuga---Jasper Brinkley was on the next flight to Arizona.
BA and SK know how to plan---and, better yet, they know how to close the deal. Not only with the players, but with their agents.
The stream of communication all the way around is superb.
What it does is---it establishes relationships built on trust.
It says a lot that Ben Roethlisberger, for example, was emphatically opposed to the Steelers' intention to put their offense in someone else's hands. Roesthlisberger still rues that decision, perhaps now more than ever.
This is what BA engenders---he engenders belief and trust.
The Path to The #7 Pick:
I have a feeling that BA, SK and the staff already knows exactly what they plan to do with the #7 pick.
Yes, they are doing their due diligence by continuing to bring players in---but, all the scenarios have been discussed and the Cardinals' board is pretty much set.
With as much as what BA and SK have done to bolster the talent and depth on defense, one would think it is now time for them to do the same for the offense.
Yet, BA is still talking about his defensive wants in this draft: an edge pass rusher, a safety and a big NT/DT type.
At #7 it would appear that BA and SK are willing to draft a pass rusher at that spot---which is why Dion Jordan, Ziggy Ansah and Jarvis Jones have been closely evaluated.
BA has stated that he doesn't think the offensive line is as much in dire straits as people think---but, there's no question that 5 offensive linemen (Joeckel, Fisher, Johnson, Warmack and Cooper) are very much in the Cardinals' thoughts at #7. The BPA philosophy applies here in this draft, for even Michael Bidwill has proclaimed the Cardinals will no longer reach in the first round.
The conundrum is that BA & SK are high on LT Levi Brown and RT Bobby Massie---thus, drafting a tackle at #7 would mean drafting at a position they already feel comfortable with. It likely would mean Levi Brown moving to RT and Bobby Massie moving to RG---where it is anyone's guess as to whether Massie will be a fit there. One of Massie biggest challenges last year was adapting mentally to the system and to the fundamentals of the position. It took his 8 games to feel accustomed to his assignments. One might imagine it would be like starting all over again for him if he were switched to guard.
However, when you look at the tape of the one-on-one drills at the Senior Bowl, you cannot help but fall in love with Eric Fisher and Lane Johnson. Fisher is a model of consistency---a rock at LT. Johnson is so athletic that if he gets beat for a nano-second he has the ability to slide, recover and re-sink his hips. When you watch this tape---it would be pretty difficult not to be excited about taking Fisher or Johnson with the #7 pick.
http://www.youtube.com/watch?v=NpjCaXaPm1A&feature=player_detailpage
Part two of the conundrum is whether to draft a guard at #7.
Chance Warmack is a stud. Some say he's the best player in the draft. Is he deserving of the #7 pick? In this particular draft, the answer is an emphatic yes, because of the uncertainty of the QBs and the medical flags on a few of the other top prospects.
Jonathan Cooper is the Lane Johnson of the guards. He's light on his feet and is quick and fast.
Having watched tape of Warmack and Cooper side by side on a couple of occasions---to me, Warmack is the superior player, and not by just a little. Warmack is going to be a physical presence from the get-go and might even possibly be able to hold up well versus Justin Smith. Cooper is going to have a hard time anchoring versus bull rushing DTs---that's the area Cooper needs to improve most.
If the Cardinals have Cooper rated high on their board, it would make sense to trade down. It wouldn't be totally surprising to see Cooper still on the board late in the first and possibly early in the second. Teams just don't want to pick guards and centers in the first round.
When you look at the Senior Bowl tape, some of the other offensive linemen had very good showings: G/T Dan Quessenberry, G Hugh Thornton, C Brian Schwenke, G Brian Winters and G/T Ricky Wagner.
Mike Mayock keeps projecting Quessenberry to guard, but watching him at tackle not only in the Senior Bowl one-on-ones, but in his games at San Jose St., he is very very good. He's got excellent feet, a good strong base and very good balance and poise. Then when he did the guard drills and played guard in the game, he looked very strong there too.
I don't know if BA and SK feel this way, but Quessenberry, because of his versatility would seem like the ideal OL pick for the Cardinals. He might even turn out to be the answer at center.
Because he is a guard prospect I think the Cardinals could feel assured of being able to take him in the early third round at #69. But, imo, he will be well off the board at #103. The Packers are very high on him, for one.
The one wild card at #7 is the wild card of this draft: Tavon Austin.
In past years Austin would not be a top 10 consideration---because he's 5-8 1/2, 174 pounds.
But---when you consider how the game is evolving---how today teams want speedy RB types to play slot WR so that they can try to get that speed into the open for chunk yards and electrifying TDs---Tavon Austin fits the mold to a tee. He is a RB who can thrive in the slot. You have to account for him on every play. You cannot let him wind up with the ball in space.
Speedy RBs are becoming a thing of the past---because they can't take the pounding. This is why BA likes a banger at RB and his speed to be at WR.
We saw what it was like having LSH at RB last year. You cringe just watching him try to run between the tackles. Bless the man because he scraped for every inch---but there is no way LSH can carry the ball inside the tackles 15 times a game and hold up physically.
So how could Tavon Austin hold up physically at slot WR? Because once he gets two steps into a pattern he leaves the linemen in the dust and when he catches the ball, he has such amazing vision and body control that he knows howe to avoid hard contact. He's like a Houdini. He will duck out of bounds just at the precise second he needs to and he will slip under hard charging tacklers before they can zero in on him, that is if he doesn't break their ankles with a stutter step at full 4.3 speed.
Many of you are laughing at the whole bubble screen importance---but, to tell you the truth, the bubble screens and hitch screens in BA's offense is the very reason why he is able to slip WRs behind coverage deep---the threat of the bubble screen brings the CBs and safeties up. It's that simple.
But, at slot WR you have to have a legitimate threat---you cannot have "just another guy."
BA knows this, so it will be interesting to see how he addresses this position. We know he wants to sign Josh Cribbs for this role---but Cribbs is still rehabbing a knee and remains un-signed.
Marcus Wheaton is a speedy slot WR the Cardinals have been showing interest in.
But, if you are BA, who has thrived with small, speedy WRs from Antwan Randle El to Mike Wallace to T.Y. Hilton, when you look at Tavon Austin your mind goes numb with all the possibilities. In BA's offense Austin would have an outstanding shot at Rookie of the Year. He would be a dream come true for a QB like Carson Palmer who thrives on getting the ball out quickly.
So what the #7 pick come down to is one of these players:
T Luke Joeckel
T Luke Fisher
T Lane Johnson
G Chance Warmack
OLB Dion Jordan
OLB Ziggy Ansah
OLB Jarvis Jones
...with WR/RB/KR Tavon Austin as a possible wild card.
What about the QBs?
BA has said that he wouldn't sit a first round QB. It's as simple as that.
Why are the Cardinals showing so much interest in Geno Smith, Matt Barkley and Ryan Nassib?
Two reasons: for possible leverage to be able to trade down; and to be prepared if the QBs slide into the second round---which may happen, but history and need suggest it won't happen.
My gut feeling is that the #7 pick will be Jarvis Jones---because of the offensive line depth in the draft.
But, the pick that would excite me most is you know who. I think he helps to bring the swag and big-play ability back to the offense that has been missing for the last three years.
Would I be happy with Lane Johnson?
Yes...and would be giddy actually if the plan was to move Levi Brown to guard, where I think he would thrive.
Chance Warmack?
Very happy. It's like ordering a Rib Eye with mashed potatoes.
Dion Jordan?
What worries me is whether he will hold up physically, having such a slight frame. Plus, his lack of production at Oregon.
Ziggy Ansah?
With Tom Pratt in his ear, the sky is the limit. But, I don't think he gets past #5.
Eric Fisher?
Love him. Best of the three, imo. But, I think the Chiefs tab him at #1.
Luke Joeckel?
Doesn't excite me as much as Fisher or Johnson----he's not as mean, but is every bit as talented.
Barkevious Mingo?
Talent-wise, wow. Head-wise, no.
Bjeorn Werner?
As a 43 DE yes. As a 34SOLB, I wonder.
Dee Milliner?
I think Antoine Cason is going to have a very good year and the team will re-sign him to a long-term deal, possibly as early as December.
Kenny Vacarro?
Not at #7, but otherwise yes, although the most talented safety in this draft might be Eric Reid, LSU.
Star Lotulelei?
Not at #7, but otherwise yes. If he were a better pass rusher, for sure.
Any other wild cards?
DT/DE Sheldon Richardson, Missouri---man, to me he's the most talented interior defensive lineman in the draft. Quickest penetrator and quickest finisher. Would thrive in Darnell Dockett's role.
DT Sylvester Williams, UNC---DTs this quick and strong are hard to come by. A three down player.
DE Datone Jones, UCLA---reminds me a lot of Aldon Smith. Cat-quick through openings. Has same length (6-4 1/2) as Smith, only is 15 pounds stronger. Played much inside at UCLA the way Smith did at Mizzou. If we took him, we put him on the edge and let him rush.
TE Tyler Eifert, Notre Dame---I would have no problem trading down and taking him. He's exceptional. Puts great pressure on the safeties. Improved quite a bit as a blocker.