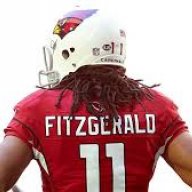 Crawled Through 5 FB Fields
Joined

Aug 10, 2005
Posts

13,405
Reaction score

2,982
Location
* The QB pool in this year's NFL Draft is deep and difficult to rank. Sam Darold (USC) and Josh Rosen (UCLA) appear to be the frontrunners, but Darnold is coming off an up and down season while Rosen is brash and has medical concerns (concussions). Josh Allen (Wyoming) is a physical dynamo, but has accuracy issues. Baker Mayfield (Oklahoma) is feisty, diminutive and immature, but is the most accurate passer of the group. Lamar Jackson (Louisville) is a thin framed Michael Vick-esque lightning in a bottle QB who some scouts think should be a WR. Mason Rudolph (Oklahoma St.) and Luke Falk (Washington St.) put up big numbers in consecutive years, but many scouts claim that their college success has more to with the system than their individual talent. So here comes the Senior Bowl and suddenly Mike White (Western Kentucky) and Kyle Lauletta (Richmond) stole the show in the game, putting in near flawless performances...some scouts are now likening White to Nick Folk and Lauretta to Jimmy Garoppolo. Could Kyle Lauletta be the prize QB of this class? A week ago not too many fans had ever heard of Lauletta. Now he is being deemed by some draft pundits as the photo-typical Bill Belichick QB.

* The depth of this QB draft comes at the perfect time for the Cardinals. Because of the parity of the group, the Cardinals should be able to take one of these QBs at pick #15. In fact, they could even trade down in the first round, add an extra draft pick or two and still be able to draft one of the best QBs. Some will say---why not wait until pick #47? That, in my opinion, would be a mistake. In the first round the Cardinals can make a select choice---by waiting until the middle of the 2nd round---they could be left out in the cold, again.

* With Steve Wilks and Al Holcomb running our defense, the Cardinals should switch the Cardinals to a base 43. At the Pro Bowl, Chandler Jones was already embracing the thought of a switch to the 43. He said it would give him more opportunities to rush the QB. Also, watching Patrick Peterson thriving in off-man coverage at the Pro Bowl, was auspicious because Wilks likes to play his CBs off the ball so that he can disguise his coverages. In off-coverage Peterson is able to mirror the WR, turn and flip his hips like few players on the planet can do. Now, Wilks will have to train Peterson to be more decisive and savvy in zone coverage and in run/screen support---two CB requisites of Wilks' defense.

* The transition to the 43 will require the addition of 2 linebackers---one to fill MLB Luke Kuechly's role and the other to fill WLB Thomas Davis'. In FA, Todd Davis (Broncos) or Zach Brown (Redskins) could be good fits at MLB, while Nigel Bradham (Eagles) or Avery Williamson (Titans) could be attractive options at WLB.

* It would appear at first glance that Deone Bucannon is not an ideal fit at either the MLB role, not the WLB role, in that he is under-sized and not an instinctive downhill tackler from the middle, nor does he have the coverage skills to excel at WLB. It's possible that Steve Wilks will want to see if he can groom Bucannon to play one of the spots---but Bucannon's $8.7M 5th year option salary is an expensive gamble (which is guaranteed if the Bucannon is on the roster on the first day of FA in March).

* UFA Josh Bynes (Cardinals) might be a good depth LB and possible contributor at both those spots. Bynes should not be expensive to re-sign. Gabe Martin and Edmund Robinson may be able to provide some depth as well. Scooby Wright will somehow have to show marked improvement in pass coverage or he could have a tough time sticking.

LDE Charles Johnson (6-2, 275)---Markus Golden (6-3, 260), Kareem Martin* (6-6, 272)
LDT Star Lotulelei (6-2, 315)---Corey Peters (6-3, 305); Rodney Gunter (6-5, 305)
RDT Kewann Short (6-3, 315)---Robert Nkemdiche (6-4, 296); Olsen Pierre (6-5, 293)
RDE Mario Addison (6-3, 260)---Chandler Jones (6-5, 265)
SLB Shaq Thompson (6-0, 230)---Hasaan Reddick (6-1, 237); Praise Martin-Oguike (6-1, 256)
MLB Luke Kueckly (6-3, 238)---Todd Davis* (6-1, 230); Zach Brown* (6-1, 248); Leighton Vander-Esch* (6-4, 240, Boise St.)
WLB Thomas Davis (6-1, 235)---Nigel Bradham* (6-2, 241); Avery Williamson* (6-1, 246); Josh Bynes* (6-1, 235); Malik Jefferson* Deone Bucannon (6-1, 211); Malik Jefferson* (6-2, 238, Texas);
LCB James Bradbury (6-1, 210)---Patrick Peterson (6-1, 203); C.J. Goodwin (6-4, 220)
RCB Daryl Worley (6-1, 205)---Tramon Williams* (6-0, 192); Ronald Zamort (5-10, 174)
SS Mike Adams (5-11, 205)---Budda Baker (5-10, 195); Rudy Ford (6-0, 204)
FS Kurt Coleman (5-11, 200)---Antoine Bethea (5-11, 206); Tyvon Branch* (6-0, 210)
NCB Captain Mannerly (5-9, 195)---Tyrann Mathieu (5-9, 186); jarell Carter (5-10, 196)

* UFA or draft propspect

* Wilks and Holcomb are so good at running the 43---it's what they know best and are most confident in. Get the right fits at MLB and WLB...sign a RCB...and the Cardinals are good to go.
Last edited: