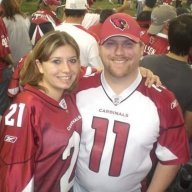 Joined

May 15, 2002
Posts

25,709
Reaction score

31,901
Location
Here are the current first round options for Arizona IMO. These will change based upon any coaching changes, scheme changes, and FA. But as of right now, this is who I feel warrants first round grades and considerations for the Cardinals.

WR - Jamar Chase - LSU
-Tremendous playmaker outside. High level competition. Can do several different things well and would make a nice complement to Hopkins.

TE - Kyle Pitts - Florida
-2nd most dominant pass catcher in college football. Huge size and speed mismatch. Dominates the middle of the field, can stretch the seam routes, and can go up and get the high thrown passes.

OL - Penei Sewell - Oregon
-Very good OT prospect with some size concerns for teams who love taller OTs. He is a monster and likely won't fall to us. If he did fall, he would be one of the few trade-up options for the Cardinals.

OL - Rashawn Slater - Northwestern
-Very nice athlete who brings toughness and power to an offensive line. Has the athletic ability and film to play OT in the NFL but being 6'4 will limit the teams interested in him there. For AZ he provides an option at C primarily, but his refined technical ability allows him to play pretty much anywhere.

OL - Wyatt Davis - Ohio St.
-Power player inside. A bit inconsistent but Davis can pass block on deep drops and can move bodies in the run game. Always hit or miss taking a G in round 1, but he is a prospect worth a 1st rounder and fills a need.

OL - Christian Darrisaw - Virginia
-Positional value pick here especially if the Cardinals are not sold on Josh Jones at OT. Nice feet, and better pass blacker than run blocker. Will need to develop physically, but it isn't the concern for him that it is for other OTs.

OL - Jalen Mayfield - Michigan
-Raw but hits all of the other traits. Physical player who is an underclassman which is why he has played RT to date. That said, he has great size and athletic ability.

EDGE - Azeez Ojulari - Georgia
-Probably a bit redundant with Reddick on the roster, but is a natural OLB who blends speed and surprising power for his size. A really nice EDGE prospect.

EDGE - Joseph Ossai - Texas
-Similar to Azeez in that he may be more of a Reddick role player than Chandler Jones, but he brings a bit more power and looks like a more dynamic Markus Golden.

EDGE - Jayson Oweh - Penn St.
-Athletic freak on the EDGE who is to EDGE players what Isaiah Simmons is to ILBs. He is a freak. He is raw. He production was limited but his traits are off the charts.

LB - Micah Parsons - Penn St.
-Very versatile off-ball LB. Probably is taken in the first 10 picks. Because he would likely be an ILB in our defense, i don't' see us moving up for him, but he is a very good player and ILB is still a position of need IMO.

LB - Zaven Collins - Tulsa
-Collins has come on very quickly but has actually been very productive and this is his 3rd year as a starter. A very large and versatile LB who could be used in a variety of ways which is similar to the appeal of Micah Parsons. Collins runs 6'4 260 but is very good in coverage and is a player who could hold up physically in the NFC West.

CB - Patrick Surtain - Alabama
-Very good CB prospect. NFL bloodlines. Fits a need. Likely gone.

CB - Caleb Farley - Virginia Tech
-More athletic than Surtain but has had some injury issues. Only 23 games but has 6 ints.

CB - Jaycee Horn - South Carolina
-Another bloodline player. Nice size and physicality. Tries to contest everything and does not back down. I don't know that he is good enough to trade up for, but he may not be around when we pick.

15 names may be a little weird for some but this is why most teams big boards are only like 150 players. These players look like scheme and roster fits at this point in time. Depth of the WR, RB and CB class will impact what type of prospect your are willing to take in round 1 at those positions. Also, our lack of draft picks will also cause Keim to tighten the 1st round grades to give more room to move back and add picks.