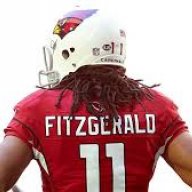 Crawled Through 5 FB Fields
Joined

Aug 10, 2005
Posts

13,405
Reaction score

2,982
Location
Heading into this week's NFL Combine, there are number of top prospects the Cardinals may be keeping a close eye on. Here are some of the prospects that may be excellent fits for the Cardinals in Rounds 1, 2 and 3.

Round 1: Pick #15

QB Lamar Jackson, Louisville. As of right now, Jackson is considered the #5 rated QB behind Sam Darnold, Josh Rosen, Josh Allen and Baker Mayfield. If this holds true, then there is a chance that Jackson could be on the board at #15. if he is---the Cardinals should sprint his name to the podium. Jackson is the epitome of the new dual-threat QB in the NFL. No other QB in this draft will pose as much problems for opposing defenses and their coordinators, because of Jackson electrifying running ability. Teams would have to spy on him, which means taking a man out of coverage and creating more room in the passing game. Jackson has a big time arm. He needs to refine his mechanics, but it is an arm and a competitor to believe in.

C Billy Price, Ohio St. Was it just coincidence that 3 of the top 5 rated centers in the NFL (per PFF) were playing in the conference championship games and the Super Bowl? AFC: JAX---Brandon Linder (84.7, #4); NE---David Andrews (81.8, #5); NFC: PHI---Jason Kelce (91.3, #1). In today's NFL building a strong offensive line starts iwith the center---and today's centers need to be physical and athletic, as defenses love to storm the A gaps. Billy Price could do for the Cardinals what Jason Kelce has done for the Eagles.

WR Christian Kirk, Texas A&M. While Alabama's Calvin Ridley is thus far the top rated WR, Christian Kirk, because of his versatility, could be the best fit for the Cardinals. if the Cardinals want Kirk, they either have to take him at #15 or trade up from #47, because Kirk is going to be drafted in the top 40, and most likely in the second half of the first round. In Kirk, the Cardinals would get the most explosive slot WR and punt returner in the draft, thus filling two of the Cardinals' most pressing needs. Kirk is breathtaking in the open field and he would instantly command the attention of the FS, because of his home run speed.

LB Leighton Vander Esch, Boise St. Chances are very high that Roquan Smith (Georgia) and Tremaine Edmunds (Virginia Tech) will be off the board at #15. However, Leighton Vander Esch fits exactly what the Cardinals need at ILB. He's a downhill tackler and a a tall, athletic daunting presence in pass coverage, both in man and zone. If there is a player in this draft who can do the types of things that Luke Kuechly can do, that player is Vander Esch.

DB Derwin James, Florida St. What the Cardinals under Steve Wilks want are DBs who have length, athleticism and a rockem-sockem style of play. Derwin James fits that bill to a tee. He is an alpha dog of the highest pedigree. And he can play anywhere in the defensive backfield. He has the range and speed to play FS, and the physical prowess to play SS and CB.

Round 2: Pick #47.

QB Kyle Lauletta, Richmond. Lauletta will be one of the most highly scrutinized prospects at the Combine. His week in Mobile at the Senior Bowl was eye-opening for the scouts. Lauletta lacks ideal height, but he is a good athlete with a strong, accurate arm and good enough feet to extend plays. If Lauletta continues to turn heads at the Combine, there's a chance he could be taken in Round 2.

C/G Isaiah Wynn, Georgia. Next to Billy Price, Wynn is the most talented center in the draft. He is smart, strong and surprisingly agile. The odds are he will be taken earlier than at #47, but if he's on the board at #47, he would be very difficult to pass up.

WR D.J. Moore, Maryland. Next to Christian Kirk, D.J. Moore is the most dynamic all-purpose WR in the draft. Moore is very much in the WR mold of his fellow Terrapin Stefon Diggs of the Vikings. Super quick, sure handed and very elusive in the open field.

LB Darius Leonard, South Carolina St. Watching him chase down the ball carrier play after play at the Senior Bowl with such natural speed and tackling prowess, he looked like a young version of the Panthers' Thomas Davis. Leonard would be an immediate fit in Steve Wilks' defense---a 3 down LB like Davis who can go gangbusters versus the run and play fast and sticky in coverage.

DB Justin Reid, Stanford. Brother of the 49ers' Eric Reed, Justin has very similar size, speed and pop. What is noteworthy about Justin is his outstanding play recognition. He is a pro at snuffing out plays. Plus, he can excel both in man and zone coverage.

Round 3: Picks #79 and #97.

RB Rashaad Penny, San Diego St. Brother of the Cardinals' Elijaah, Penny led the nation in rushing as a senior. He keeps a low center of gravity, can lower the shoulder and move forward contact, but also has a second gear in the open field. Good receiver and kickoff returner.

C James Daniels, Iowa/Frank Ragnow, Arkansas. James Daniels or Arkansas' Frank Ragnow would be a steal for the Cardinals in the 3rd round. Daniels is much like Isaiah Wynn---poised, sneaky strong and flexible. Ragnow was hampered by injuries his senior season, but prior to that was thought of as the top center prospect in this class. Ragnow plays with commendable strength and leverage.

WR Anthony Miller, Memphis. Depending on his 40 time, Anthony Miller might be on the board in round 3, because some scouts wonder if he can hold up physically in the NFL and question how well he can separate from NFL CBs. Miller stacked outstanding seasons the past two years racking up 2,896 receiving yards and 32 TDs. While he did break down physically at the end of this season, he gutted it out and still produced.

DB Quenton Meeks, Stanford. Meeks is the epitome of a Steve Wilks CB. He's 6-2, 200 and plays a physical ball-hawking style. He might not run a great 40, but if he does, chances are he will be a top 80 pick.

FB Jaylen Samuels, NC St./Dimitri Flowers, Oklahoma. Now that the Cardinals are back in the FB market, two players stand out in this draft. Jaylen Samuels is extremely versatile---can play RB/FB/H-back and TE and runs and catches like Larry Centers. Flowers is a thick, powerful athlete who was particularly dynamic in the red zone at Oklahoma.
Last edited: