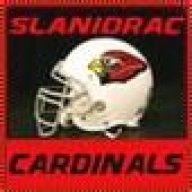 ASFN Icon
Supporting Member
Joined

Jul 11, 2002
Posts

13,802
Reaction score

11,741
Location
There are a few of teams that I believe would trade down.
I would put the Jets (10), the Texans (13) and the Eagles (15 & 18).

I don't think the Cards would move up to 10 for any player because it would cost quite a bit of draft capital and some would have to be next year picks.

Even a Texans trade would involve our 1st and a high pick next year.

The Eagles are a prime candidate to move up to get " our" guy and wouldn't cost a fortune.

But who? What player is worthy of moving up and give up draft capital? If Johnson or Williams was still there at 13 would you pull the trigger?

If there is a Wr we REALLY want, like Olave for example at 15, we are kidding ourselves to think the Packers wouldn't take him or the Chiefs wouldn't move up ahead of us.

What player would you move up to get and how much would you give up to get him?