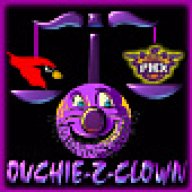 Joined

Sep 16, 2002
Posts

52,089
Reaction score

38,374
Location
Ok Mao…

Although we fans on this board have been making similar comments regarding Kyler that the media has been making this week. Without being fed anything.

let's say your right and whatever "inside information" you're being fed is dead on and accurate in regards to the FO feeding info about Kyler to trash him.

To what end? What's the purpose of that? How will it serve the club moving forward? What is their motive and hope to gain about trashing their QB to the media privately? I mean if it's gotten to you you can bet Kyler will hear of it no? What's the end game to do that to your QB 1 you have no way of getting rid of thanks to the massive contract you just signed him to?

Heck there were "rumors" in his first year that Larry and Kyler didn't get along…. People just dismissed it which was obviously a mistake.
I think Mao was pretty clear: to save kliff and Keim's hides.