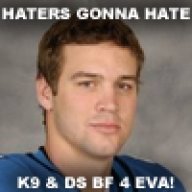 Joined

Apr 30, 2003
Posts

30,484
Reaction score

4,846
I ran into this problem today, laying out Draft Prospect Lists.

Do I keep the traditional OLB/ILB/DE headings? Or do I create a special EDGE category for pass rushing DE's and OLB's.

With a hybrid defense which could conceivably make 10 of 11 defensive players "interchangeable" on any given play, good luck with trying to slot every player into traditional 4-3 or 3-4 or nickel roles.
Personally, I have been putting players under "Pass Rusher" for a couple of season now. Even last year, the pass rush positions were made up of three spots.
The traditional 3-4 OLB, Golden, and Jones, and the Nickel package where they kicked Jones inside to DT, and put Reddick/Kareem Martin on the outside.
I will have to put an edit point on my response to Ghandi's post, because I keep forgetting what the Seahawks, Raiders, Vikings, and Falcons where running last year.
It is a 4-3, but the SILB is a pass rusher type, or "traditional 3-4 OLB" type.
Where Dion Jordan, Bruce Irvin, Anthony Barr, and Vic Beasley play SILB in the 4-3 alignment.
Like Ghandi stated, defense these days have no traditional lineup, line in year's past, and probably the most traditional lineup is a Nickel package of some sort.
Still, I am with you. Hard to get an idea of how this roster will come together defensively.