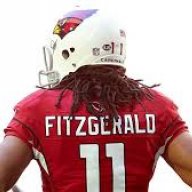 Crawled Through 5 FB Fields
Joined

Aug 10, 2005
Posts

13,405
Reaction score

2,982
Location
Who here wants a fresh new approach with a new HC and 3 new QBs (1 veteran of the HC's choice and 2 draft picks)? I do.

BA's regime has run its course. It was an exciting 3 year ride, but a disappointing 2 year slide. Carson Palmer was a warrior, but another year of being a sitting duck in the pocket is most likely not in his best interests. Drew Stanton did his job as the #2 and was paid handsomely for 5 years as a backup. Blaine Gabbert had a golden opportunity to prove his naysayers wrong, and while he flashed early, he went back to showing why fans in JAX and SF were so eager to see him play somewhere else.

In my opinion, if Steve Keim elects to stick with BA another year and it's more of the same error-filled, uninspired football, then Keim should not be retained as GM. Both SK's and BA's contracts expire at the end of next year (although both have team option clauses in 2019).

If Keim elects to move on from BA and his staff, then he deserves a two year window to see how compatible he is with his new choice for HC. What is unclear, at least from this fan's perspective, is whether the lack of development of Keim's draft picks are more on the coaching or more on the scouting. It's quite possible (and even likely) that BA and his staff are very difficult to draft for.

They do not want to play rookies to begin with---every 1st round draft pick over their 5 years was asked to play a position the player did not play in college (which made their transitions to the NFL all the more daunting and painstaking), and the coaches are adamantly old school, which is an approach that many of today's athletes are uneasy and unfamiliar with.