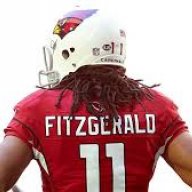 Crawled Through 5 FB Fields
Joined

Aug 10, 2005
Posts

13,405
Reaction score

2,982
Location
Congratulations to Todd Bowles for this exciting leg of what is now a football playing/coaching odyssey, as he returns home to coach the Jets. I, for one, will be rooting for the Jets because I hope Bowles flourishes.

Have to hand it to BA---when he hired Bowles as DC two years ago and told us of how high he was of Bowles and went as far as saying that Bowles was HC material, I think many of us were like "Wha?"

Well, a mere two years and 21 victories later, Bowles is hired by the Jets.

While pundits are painting a bleak picture of what Bowles inherits---let me tell you---the Jets' cupboard is not bare at all.

Bowles' new defense:

DE Sheldon Richardson (6-3, 294, 3, Missouri---a potential All-Pro)
NT Damion Harrison (6-4, 350, 4, Wm. Penn---a mammouth space eater)
DE Muhammed Wilkerson (6-4, 315, 5, Temple---big, athletic, in-prime DE)

If you are running a 3-4, those three give you an excellent base.

At LB, David Harris is a UFA heading into his 9th season. Next to him on the inside, Demario Davis is solid. On the outside, Quinton Coples and Calvin Pace give Bowles the length and size he likes on the edge...plus he has a situational pass rusher in Jason Babin. And second year OLB trevor Reilly from Utah is yet another long, athletic edge player.

At DB...Calvin Pryor in his 2nd year should be the captain back there. CB Dee Milliner has good ability---and Bowles will look to add a couple of veterans---Would A-Cro consider a return to NY? To stay with Bowles, he might.

On offense the QB situation is the biggest question mark---is Geno Smith their QBOF? Bowles will give him every opportunity to prove himself. While Mike Vick is a UFA---Bowles probably will try to sign a younger veteran to challenge Smith. Would BA be willing to trade Drew Stanton to Bowles? if so, what an strange odyssey that would be for Stanton, whom the Jets signed and were high on the year they wound up trading for Tebow, which caused them to turn around and trade the newly-signed Stanton to Indy where he was paired with Andrew Luck and BA.

At RB the combo of Chris Johnson (lightning) and Chris Ivory (thunder) is potentially prolific if both are healthy and well-motivated.

At WR...hello Percy Harvin, Erik Decker and Jeremy Kerley. That's a nifty trio when healthy and motivated.

At TE Jace Amaro heads into his 2nd year paired with the solid jeff Cumberland.

The offesnive line is anchored by Nick Mangold at C---and flanked with two talented good tackles in D'Brickshaw Ferguson and Breno Giacomini. 3rd year pro Brian Winters starts at one guard...with likely 4th round pick Dakota Dozier in line to start at the other.

On STs K Nick Folk has the leg and range. P Ryan Quigley is solid and LS Tanner Purdum is good but is a UFA.

Top 4 Needs:

QB to challenge Smith
ILB
CB
S

The pairing of Todd Bowles with OC Chan Gailey is a real good one, imo. And I think Bowles will have a very positive influence on Geno Smith. Bowles has the kind of personality that could bring out the best in Smith.
Last edited: