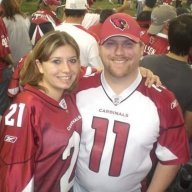 Joined

May 15, 2002
Posts

25,059
Reaction score

29,763
Location
Week 8 snaps in detail

Offense (70 snaps)

Carson Palmer - 70 (100%)

Andre Ellington - 53 (75.7%)
Stepfan Taylor - 5 (7.1%)
Robert Hughes - 10 (14.3%)

Larry Fitzgerald - 65 (92.9%)
Michael Floyd - 55 (78.6%)
John Brown - 44 (62.9%)
Jaron Brown - 19 (27.1%)
Ted Ginn - 15 (21.4%)

John Carlson - 56 (80.0%)
Rob Housler - 21 (30.0%)
Darren Fells - 6 (8.6%)

Jared Veldheer - 70 (100%)
Ted Larsen - 70 (100%)
Lyle Sendlein - 70 (100%)
Paul Fanaika - 70 (100%)
Bobby Massie - 70 (100%)
Jonathan Cooper - 1 (1.4%)

Defense (92 snaps)

Calais Campbell - 62 (67.4%)
Tommy Kelly - 62 (67.4%)
Dan Williams - 18 (19.6%)
Ed Stinson - 51 (55.4%)
Frostee Rucker - 31 (33.7%)
Kareem Martin - 10 (10.9%)

Larry Foote - 92 (100%)
Alex Okafor - 69 (75.0%)
Sam Acho - 65 (70.7%)
Kevin Minter - 16 (17.4%)
Marcus Benard - 16 (17.4)

Patrick Peterson - 27 (29.3%)
Antonio Cromartie - 91 (98.9%)
Rashad Johnson - 92 (100%)
Deone Bucannon - 76 (82.6%)
Jerraud Powers - 84 (91.3%)
Tyrann Mathieu - 76 (82.6%)
Tony Jefferson - 73 (79.3%)
Justin Bethel - 1 (1.1%)

Trends

1-Alex Okafor continues to get more work in the starting lineup. This week he had the second most defensive snaps by a front 7 player which is huge. It speaks volumes about the trust the coaches have in Okafor that he played more snaps than Acho vs a top competitor who runs a tempo/volume offense. Players have to read and react on the fly which shows the progress Okafor has made. I'm still not sure what sort of pass rush threat he is going to be, but he can sure be a force OLB in our 3-4. Worst case, he is a more versatile Matt Shaughnessy going forward which has value.

2-Ed Stinson continued his usage trend as well. 51 snaps which tops his previous high of 33. Also, you have to be happy with the rush ability Stinson showed in the game. He wasn't a dominating pass rusher, but he did show the ability to win a few one-on-one matchups which is huge when playing next to Calais Campbell. Hopefully we continue to see further developemnt from the surprising rookie.

3-Jaron Brown had more snaps than Ted Ginn for the 2nd week in a row which was expected. Brown played 19 snaps which is pretty nice to see.

4-This game exposed the reasons why today's NFL can limit the effectiveness and usage of some players. Both Dan Williams and The Ghost played less than 20% of the snaps in this game which equals 74 snaps sitting on the sidelines. I'm not saying Dan Williams isn't a good player, but this game highlighted why you can't pay him big dollars to stick around. There will have to be some give and take.

5-It was reported after the Bronco game that Kareem Martin had made several errors. I'm guessing that report was true. Martin played 38 snaps the week before, and then 65 snaps in the Bronco game but has not played more than 12 snaps in any of the 3 games since. I'm guessing he is working on some things, and is dealing with Stinson's rise in snaps as well. He is young, no worries.

Thoughts

1-It isn't new information, but look for the team's LB corp to be gutted next year. Larry Foote - FA. San Acho - FA. Daryl Washington - Idiot. John Abraham - Retiring. Lorenzo Alexander - Overpaid. Thomas Kaiser - Awful. My guess is that we can probably count on Shuaghnessy, Okafor, The Ghost, Demens, and Carson to be on the roster next year, and not much more.

2-Our secondary has real nice depth right now, and looks like a solid mix. Cro looks to be pricing himself out of AZ which isn't a bad thing. We bought low, and got high production. Good problem to have. I'm guessing we will add a young CB in the draft, but it is tough to see us spending too much money on a free agent CB or taking one early.

3-I really like Ellington as an offensive weapon, but a legitimate RB will be a need next year. I feel like we are limited in our use of Ellington because we have to go empty if we are flexing him out wide. It would be huge if we could have a legit RB threat in the backfield while we have Ellington lined up as a WR. Could save a WR roster spot, and give our offense another dimension which doesn't include two TEs (aka awful players).

4-Interior OL is an issue, and I am guessing the staff won't be too patient moving forward. It won't shock me if the Cards look to draft another OG in the 2nd or 3rd round of next years draft to get more production out of our power running game (which is non existent now). Hopefully Cooper fills one of these spots, but I am guessing his next starting chance will be the last one he gets. Arians doesn't seem like a real patient guy. I think Cooper will succeed, and end up signing a second contract with the Cardinals. However, you only get so many chances in the pros.

5-Michael Floyd is really helping Fitzgerald's negotiating leverage. I'm not sure what is going on, but he is struggling to seperate from defenders, and is dropping some pretty good jump ball opportunities.

###

That is all I have this week. If you have other questions, let me know.
Last edited: