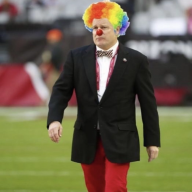 Joined

Feb 14, 2003
Posts

34,938
Reaction score

22,300
Location
I brought K9 Jr. to this game. We showed up just in time for the national anthem. Stadium was probably 40% or better KC fans (who were generally well-behaved and better-looking than, like, Packers fans). It's hard to measure the team in this format when you're at the game. That said, hard to say this was much fun. Let's discuss who stood out for good and bad based on ***vibes***:

Heroes
James Conner, RB. I don't understand the strategy to come out and Let Kyler Cook. It keeps up consistently behind schedule. Connor had a pretty good success rate in the competitive portion of the game. It's not really his fault he didn't get a touch until the score was 14-0.

Zaven Collins, ILB. Played the third-most downs of anyone on the defense and wasn't particularly embarrassing.

Budda Baker, S. He's so slippery attacking the line of scrimmage. He's just a bad matchup against Mahomes.

Goats
Kyler Murray, QB. The starting offense had 57 snaps. Kyler Murray was involved in 41 of them. On first downs, Kyler was -1 yd rush, Incomplete pass, incomplete pass, aborted snap, Complete pass for 4 yards, 21 yard scramble, complete pass for 3 yards, complete pass for 5 yards, incomplete pass, incomplete pass,[score reaches 36-7] complete pass for 8 yards, complete pass for 4 yards, complete pass for 4 yards, complete pass for 22 yards, incomplete pass. By my count, that's seven of 15 successful first down plays, with more than half of them coming in garbage time. Yuck.

Rashard Lawrence and Leki Fotu, interior line. Both these fat dudes played a majority of defensive downs and were thoroughly dominated. They have to get better up the middle.

Isaiah Simmons, *Backer. Played 61 snaps and had three tackles and no splat plays. Just disgusting.