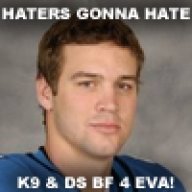 Joined

Apr 30, 2003
Posts

30,484
Reaction score

4,845
Ok.
Lets hear them. A little description will help too
Right now, in my brief reading career:
1. Count of Monte Cristo -
Classic tale of revenge.
2. The Three Musketeers: 20 years after -
Would recommend all 5 books of the series, but this is my favorite of the bunch. History of a "modern-day action hero character's life" set in historical France when the Parisians ruled society. The fall of the French gentleman-warrior.
3. Lonsome Dove -
Would recommend the series of 4 books, tho the final book in the timeline of the series is very average. Classic Western with a very down to earth vibe to it.
I know that is a whimpy list & only 3 books, but in all honesty I really only started reading consistently about 1 1/2 years ago. Just started.
.....................and I am out of books to read.
Last edited: