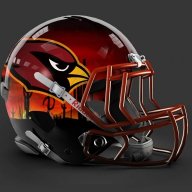 Stone Cold
Supporting Member
Banned from P+R
Joined

Mar 13, 2004
Posts

15,206
Reaction score

10,611
Location
is he an offensive coach or a defensive coach? we ask that question like it means something.
But the best Head Coaches are teachers. Educators, organizers, and motivators.
John Madden had a Masters in Education and except a few training camp snaps never played pro ball. Bill Parcells motivated with a glance, his players didnt want to let him down. Bill Bilichick is considered a defensive coach...but he coached a top 10 offense for 17 years straight.

One key thing to keep in mind is that in order to be a great defensive coach you have to understand offense inside and out.... and vice versa.

One thing great coaches have in common regardless of their background. Fundamental football. Stout defense supported by a solid running game. Control the ball. not surprisingly these are also the team traits that help your quarterback to be successful.

it doesnt hurt that most great coaches happened to find a franchise QB. But it is pretty clear that even with a talented signal caller you need a defense that gets the ball back and a rushing attack that can relieve pressure from your QB and close out a game when you have a lead.
we have all seen it. with Shula, Madden, Parcells, BB, Noll, Cowher, Johnson, Reid... they get a 2 score lead in the second half and proceed to break the opponents spirit with a crushing run attack and 8 minute drives. Anyone remember John Riggins in the super bowl?

The trend, has been to hire offensive coaches. I mean it kinda makes sense, the league is continually changing rules to favor offense. But that trend, IMO, has left us with a bevy of offensive coordinators who just are not seasoned enough to take the next step.

Now there are 3 top 5 defenses left in the playoffs.
the old saying, offense wins games but defense wins championships.... its still looking true.
There are lots of seasoned DC's out there ready to get a shot. These guys understand offense, and we really need a guy who understands both.

Offensive coach/defensive coach... doesnt matter if the guy is a Head Coach. If he is ready for the job he understands what it takes to win and he works to make it happen on both sides of the ball.

if I were Mike, I would be looking for a guy who uses words like precision, discipline, consistency, effort and accountability... then look at his body of work and see if that is what shows up.
Thats how we build a culture. Thats how we win.