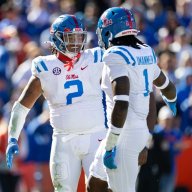 Joined

Jan 28, 2015
Posts

11,200
Reaction score

17,521
same scheme, yet good production (QB ratings in the 110+ range). No DHop as well. Maybe the scheme worked because McCoy is better at reading defenses and going to the right place
If Kyler didn't have a single good game in his career, I would agree with this possibility. If he didn't have better games pre-Hopkins than Colt did, I would agree with you. If a sample size of 2(3) games have you convinced, by all means, good luck.
same scheme, yet good production (QB ratings in the 110+ range). No DHop as well. Maybe the scheme worked because McCoy is better at reading defenses and going to the right place?

I am open to the possibility that Kliff's offense produces open targets that Kyler isnt seeing/ recognizing / choosing. Heck -- we spent three pages analyzing one all-22 shot from last weeks game where it looked like nearly everyone was open but it resulted in Kyler running it in.

and i dont get the point about Kliff's history with other QBs-- college to pros?
I would agree with this, if any of this didn't happen:
Ding.
Ding.
Ding.

Manziel managed to have a better statistical season when Kliff left after Manziel's 1st season.

Mahomes was this extremely polarizing prospect because he got faulted for doing so much ad-libbing. Turns out he had to cause his head coach at the time had a trash & boring scheme. He goes to a coach that actually innovates his scheme, he becomes the best QB in the league.


I'm not a Kyler fanboy & I'm not trying to come off as one, but there's 10 years of evidence of QBs that played better without Kliff than with him. Hell, even Baker Mayfield & Davis Webb managed to look a lot better without him than with him.

Unless people are generally just focused on the Kyler fanboys, I don't understand why people *may* think Kyler is holding Kliff back & not the other way around.
It would be one thing if these QBs sputtered without Kliff. However, history shows these QBs played better without him than with him.
There is a lot of intellectual people on here. We should not be getting fooled this easily.