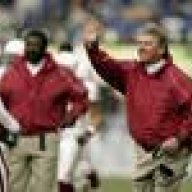 Joined

Sep 2, 2002
Posts

13,064
Reaction score

8,406
Steve Kerr took the blame for making the Kurt Thomas trade.
You guys are living in a fantasy land - Kerr has NO CHOICE! Sarver told him to get rid of KT for $. It would be impossible to judge Kerr as a GM because he was always fighting with one arm behind his back.
You can criticize plenty of his moves but the KT trade I don't get at all.
He may be a good head coach but he was not a good GM.
Wrong again. He was at worst an average GM, and made some very good moves. They were 2 wins away from the Western Conference Finals with Sarver as owner! Do you forget why he left? Sarver wouldn't pay for any bonuses for anyone!
This revisionist history blaming everything on Kerr while ignoring one of the most toxic owners in NBA history is really an odd choice. For a more honest/realistic assessment of Kerr as GM, it might help to do some reading:
https://valleyofthesuns.com/2010/06/16/a-look-back-at-steve-kerrs-tenure-as-suns-gm/