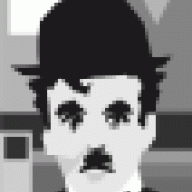 Joined

May 13, 2002
Posts

39,833
Reaction score

8,778
Location
I agree with you for the most part. What I was hoping to see with him was a maturing arc and I think that got sidelined a bit by Charly. They did it a bit at the end of S1 and into S2 with LaMarr by moving him from the goofball sidekick on the bridge to chief engineer. Mercer's had a little arc too where he's gone from being more Kirk-like to more Picard-like in his command style. So I wanted to see some growth like that for Gordon.

One little nitpick that I did have with this episode was why was LaMarr piloting one of those little fighter ships? It seems odd that you'd send out your chief engineer in one over having him keep the Orville running correctly.
Haha, that's a good point about LaMarr. But, they gotta give him something to do I guess. You could chalk it up is giving the actor some lines and action, but Bortus was nonexistant during the battle himself. Of course, outside of Mercer and Grayson, Bortus and probably Isaac have been the most heavily featured characters this season.