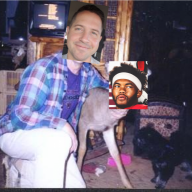 Joined

Jul 21, 2002
Posts

22,714
Reaction score

9,347
Location
You must be registered for see images attach
With the dearth of picks, I decide to trade down nine spots and get two additional 2021 picks. Pittsburgh wasn't going to budge so I offered them a 2022 7th rounder and they accepted the trade.
Luckily one of my favorite players, Jaycee Horn falls a bit. According to numerous GMs and scout, he likely fell due to his handsy play that many thinks will get him flagged in the NFL.
For round 2, the Saints call wanting to trade up. I tell them that I need a late third/early 4th to make that trade and they take the bait. With the pick I get from the Steelers, I go with the top back on my board, Javonte Williams. Visions of Williams and Edmond being my thunder and lightning make me giddy.
When I get to my next pick, the Cowboys call and want #60. They throw me #75 and two other picks, while I throw in #160. There wasn't an exciting player on the board at #60 and I see that there are about 15-20 players that are grouped together so I might as well get more picks out of it.
My next pick is Justin Hilliard who will be the heir apparent to Jordan Hicks in the middle. This is what good teams do, they draft guys to replace players in the coming years. Now the Cardinals have some depth at ILB and it won't be a catastrophe when they can't sign someone to replace Hicks.
My next pick is TE Tremble out of Notre Dame, a noted TE factory. He is a slobber knocker blocker with some receiving skills. At this point, all of the top TEs are gone but there is a need, and Tremble should be a good backup TE at a minimum.
After Tremble, I go with Shakur Brown out of Michigan State after a small trade down with the Lions who feared losing Sage Surratt. Brown has decent size, good hips, and makes plays on the ball. He is still a developing player, but he shows good CB traits. With Horn, Butler, and Murphy in tow, the need for a developmental 4th corner is still there.
My next pick is DL Bobby Brown III out of Texas A&M. A big physical 1 tech DL, Brown uses his strength to constantly harass the interior OL. More of a space-eater than a pass rusher, he improves the IDL and provides some insurance since the Cardinals aren't likely to bring Corey Peters back.
With pick #153, I go with one of my favorite players in the draft, Hunter Long, TE from Boston College. Long will never be a reliable seam buster, but he is a natural pass catcher and a good blocker. With Long and Tremble in hand, the Cardinals have a pair of young players to fill out the TE room.
My next pick is Anthony Schwartz who played WR at Auburn. Don't be shocked if the Cardinals don't draft a WR high this year; Nuk, Green, and Kirk fill out the 1-3 spots, so any receiver you are drafting has to be better than those 3. Schwartz has legit game-breaking speed down the field, speed that teams will have to respect. I look at him to eventually be a #3 receiver.
Now we are at the point in the draft that you look for guys to fill in on special teams. Greg Eisworth will step in and be a backup strong safety. He was a team captain at Iowa State, a steady defender in zone coverages, and a real good run defender.
Lastly, I take a swing on Ian Book to fill out the QB room. He had an up and down career as Notre Dames starting QB. Why I like Book here, is that he gives the Cardinals a future potential back up to Murray with a bit of athleticism.