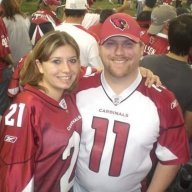 Joined

May 15, 2002
Posts

25,142
Reaction score

30,114
Location
I was putting this into a couple different threads and I can't stop thinking about it so I will just make a thread about it.

Joshua Jones was the biggest disappointment of training camp. He lost. He went from competing for the starting RG spot to now being the primary backup at RT. Kelvin Beachum is signed for one more year after this one and it is for cheap. Jones isn't beating him out as he wasn't even deemed good enough to compete with Beachum for the RT spot this year. I am sure I will get a lot of "it's too early" or other nonsense, but those folks are sticking their heads in the sand. Joshua Jones was competing against "not good enough" for the Bills Brian Winters and Justin Murray. Neither are considered good players and Justin Murray is under contract for next year as well.

Not only could Josh Jones not beat them out, he couldn't beat them out when he got every first team rep at RG...and neither Winter nor Murray played a single snap. Those average at best guys did not have to even play a snap in two preseason games to win the starting spot, Josh Jones went out and lost it. Ugh. Another 3rd round pick by Keim flushed down the drain on a guy who can't beat out journeymen NFL players. What a bummer.