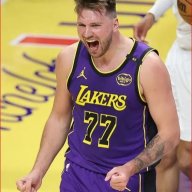 I Want To Believe
Super Moderator
Moderator
Supporting Member
Joined

May 13, 2002
Posts

67,141
Reaction score

15,955
Location
The 2015-16 Los Angeles Lakers thread
Lakers will keenly follow the bouncing balls in NBA lottery Tuesday
The Lakers will see if six months of angst and ruin was worth it shortly after hearing the sound of 14 ping-pong balls dropped into a plastic hopper Tuesday.
The Day has arrived for the Lakers, the one they've been anticipating — or dreading? — since the end of their worst season ever.
The NBA draft lottery in New York will reveal if they move up from their current No. 4 spot into prime top-three territory. Or they could fall two spots and cough up the top-five-protected pick they owe for the Steve Nash trade in 2012, in what would be a devastating turn for the Lakers after going 21-61 last season.
"That is a huge, huge piece of this lottery on Tuesday night — what becomes of the Lakers' pick?" Orlando Magic executive Pat Williams said.
No matter what, the Lakers have the 27th overall pick after Houston gave it to them to take Jeremy Lin last summer. But make no mistake — all eyes are on the other pick in a draft that's very strong up top.
There is a 17.2% chance two teams pass the Lakers in the lottery, forcing them to forfeit the pick to the Philadelphia 76ers, who acquired it from Phoenix in February.
On the other hand, there's a 37.8% chance the Lakers move into one of the top three picks for the June 25 draft.
"We can get better quickly. We can be in the hunt quickly," Lakers General Manager Mitch Kupchak said last month after players cleaned out their lockers. "A lot depends on May 19.
Since the basic framework for the present-day lottery was installed in 1996, the No. 4 spot has not been kind to lottery teams. Teams have moved up from the position five times, moved down 13 times and stayed in the same spot only once.