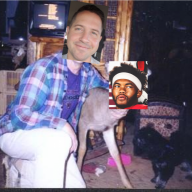 Joined

Jul 21, 2002
Posts

22,774
Reaction score

9,440
Location
All of that is fair. But it doesn't absolve him from criticism. There are some here who will get angry if we dare question Kyler whatsoever about anything. I know I've been told to go be a fan of another team multiple times because I'm not completely certain Kyler's destined to be a top 5 QB.


They have talent, but to me, it's more about how that talent was acquired.

Who is Rodgers throwing to? Did he get a 1st round WR for multiple years because he needed that to succeed? Did the Packers go out and pay a lot of money for a top flight free agent to make him successful? No. The notable skill players he has around him are mostly all drafted and home grown, all past the 1st round. Davante Adams a 2nd round pick, his next two WRs in the 5th and 6th, Aaron Jones in the 5th, Tonyan undrafted by another team.

Brady's a little different, but homegrown WRs in Evans and Godwin (3rd round), Ronald Jones (2nd round)... sure, there's Gronk, AB, and Fournette, but all of them are essentially scrap heap players that multiple teams had a shot at on cheap contracts (Gronk being the exception only playing with Brady).

Mahomes' best weapons were drafted after the 3rd round. Kelce (3rd round), Hill (5th round).

Brees is also getting it done with guys who weren't heralded players and were home grown. Michael Thomas (2nd round), Alvin Kamara (3rd round).

The reason I bring this up is that lots of posters here say we must provide Kyler with another 1st round pick at WR, or TE, or upgrade at running back, and spend more and more money just to get the offense up to *****. These top QBs aren't sitting around with key weapons that were purchased on the free agent market, by giving up a ton of trade capital, or burning a 1st round pick on a position where they already have another star.

That's what puts a little fear in me about Kyler. Is he really making anyone around him that much better? Sure, he balls out when he runs, but it doesn't seem like he takes the rest of the offense with him. That could easily be Kliff's fault.
Ok here is the crack at it:
1) Rodgers. Rodgers IS a generational talent, but he wasn't overnight. When he was young, He had Greg Jennings and Jordy Nelson. Both 2nd round picks. I think you are WAY too fixated on what round a guy was drafted in. The Packers have also been roundly criticized over and over for how LITTLE they invest in Rodgers. He had a good season last year because a bunch of unheralded guys did pan out, but he looked like he was in a pretty good decline going into the year.
2) The fact that you gloss over Gronk, AB, and Fournette, is freaking laughable! Gronk is a first ballot hall of famer! AB was on that trajectory before his breakdown. Mike Evans AND Godwin were both higher picks as was Ronald Jones. Colllectively, you have a 1st (Evans), 2nd (Gronk, 2nd (Jones), 1st (Fournette), 1st (OJ Howard), 5th? (AB)….bro.....you totally destroy your own argument even mentioning the Bucs! This a collection of highly rated talents.
3) Mahomes also has Sammy Watkins who the Chiefs expected to be real good and they paid him as such.
4) The Saints invested quite a bit of draft capital on their skill players. Using a second IS a significant investment, which is why Isabella not working out (or really being extensively used) is such a whiff.
As for the rest, you create this giant strawman (per usual). I haven't really seen ANYONE on this board saying the Cardinals MUST use a first rounder. NO ONE. It's a machination of your crazy imagination.