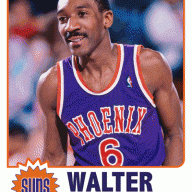 Next Up
Moderator
Supporting Member
Joined

Jan 15, 2003
Posts

9,852
Reaction score

146
Location
These are not by order of who is picking, but by order of prospect. After going back and watching games this is my top 10 for this year. My hope is PHX will be able to get Jackson, Issac or Fox in that order.

1. Markelle Fultz – The best talent in this top-heavy draft. Can take over the game and will be able to get to the basket at the NBA level. Above average defender and distributor. Will be most effective in ISO and pick-and-roll plays, playing off the ball will need some work.


2. Josh Jackson – Athletictwo-way player that can distribute from the wing and finish above the rim. Cuts to the basket and plays well without the ball. Will need to work on offensive consistency and strength.


3. Jonathan Isaac –Streaky shooter with the length, athletic ability and scoring touch. He was the main options at Florida St, will need to be a #2 option until ball handling and BBIQ increase.


4. De'Aaron Fox – Speed, athleticism and ball handling for the NBA level. Can be inconsistent on his jumpers and will need to develop the 3pt shot to be effective. If rumors are true about his improved shooting in workouts, he could be even above Isaac on this list. Will need to work on being a distributer and passing.


5. Lonzo Ball – Plays very well in transition basketball, but struggles in the half court sets. At times can pass up open shots to make that extra pass. Has a sneaky athleticism off the ball and can finish at the rim. Shot is flat and slow release may have struggles at the NBA level to get off shot. Poor foot speed and pick-and-roll defense.


6. Jayson Tatum – Can handle the ball well for a big and has a decent long-range shot. Slow lateral quickness and balance will limit his scoring ability at the NBA level. Purely an ISO player and stretch four. Very poor low post defense and post moves vs bigger players.


7. Dennis Smith – Probably the most athletic player in this year's draft. Still learning how to play the PG position and will need to work on his passing skills. Has the strength and frame to be a good defender for the NBA. Average wingspan and playmaking ability keeps him out of the top of the class.


8. Malik Monk – Very athletic guard with a long-range shooting ability. Plays good defense and has the quickness to stay in front of most players. Nice ability to finish around the basket and shoots well of the ball. Unfortunately, he is only 6'3" and doesn't have the playmaking ability to play PG yet. He is undersized to play the SG position at the NBA level.


9. Frank Ntilikina – Athletic guard with very long wing span. Plays passing lanes well and above average defender. Streaky shooter who can take over a game. Still unclear if the transition to NBA level talent will limit his effectiveness.


10. John Collins – Excellent leaper with decent touch from mid-range. Will be active on the boards and cutting through the lanes to score points. Limited strength and weight will get him abused on the low block.