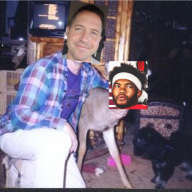 Joined

Jul 21, 2002
Posts

27,144
Reaction score

15,923
Location
Once we traded for Hollywood and drafted McBride (which was a surprise, but I like the move) they did close to what I wanted:
Agree. I was initially shocked at taking McBride, but once I realized what it potentially meant, I was excited. If the Cardinals finally have a TE, holy cow, I'll be stoked about this draft from that alone.
Hollywood filling Kirk's role?!? I liked Kirk but I could see Hollywood making more big plays in that role.
Back-to-back edge/DE or IOL in third (they could've done either and I would've been good) - so Thomas/sanders met that.
Both were players I had considered when I looked at the Cardinals. Now I was bigger on Mafe and Ebiketie, but Thomas plays his butt off and if he can successfully transition to OLB, the Cardinals could have a Ryan Kerrigan type.
Not as excited about Sanders, but he has had his moments and could develop.
Flood the 6th and 7th with whatever we did NOT do in third (so edge/DE or IOL) - they did it to a lesser extent with taking two OGs.
Lecitus was one of those guys I often took in the mid rounds..but Hayes wasn't because he was always long gone. I think both have traits and especially Lecitus, have played a lot of college football at big schools.
Really unsure about the others drafted. The CB seems a good size/speed prospect, so why not roll the dice? The USC RB and PSU LB seem pretty pedestrian (and the RB seems to have similar running style of Conner).
I'm meh on the corner. Nice athletic traits but from a small school and a bit older.
I like Ingram. I prefer bigger backs and he checks that box.
But overall pleased with the shots we took. I'll be ecstatic if we finally have a stud young TE. Been pining for that for decades.
Agree. Overall pleased.