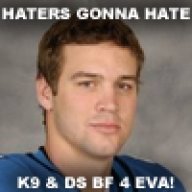 Joined

Apr 30, 2003
Posts

30,484
Reaction score

4,842
This offseason I have been playing around with all the draft simulators available. CBS Sports' big board is the main database I have used, but there are others that I have used from time to time.
After doing around 50 or so draft simulations I compiled the data (best I could keep track of) and came up with a Mock draft that is based on the availability of players I have seen available at each round.
Please keep in mind, what I call the "Alex Okafor Rule", which is the fact that the year Alex Okafor came out in the draft, I had him as a LOCK 2nd round pick, and he lasted until the 4th round. This is not an exact science, and I realize that one person's 1st round pick is another's UDFA. Thus the information below is based on who was available in the simulations, thus while I understand a player may not be there at a particular round, I did the best prediction based on the information available to me.
As for the mock draft itself, there are going to be players not on my lists, well that is because I don't like those players, and don't want those players on the Cardinals, Eli Harold being a good example. I don't like Harold, because I do not think he will translate to the NFL well.
Below are pictures of my notebook, it breaks down the players by round, and the number after the "-" mark is how many times I recorded that player being in the round (I may have missed a few here and there, BTW). The red arrows show whom I picked out, and the numbers in the parenthesis show a player that may be available in a range of rounds.
Thus my final Mock Draft for the 2015 NFL draft:
My breakdown:
1st Round:
I am hoping that Bud Dupree falls to the Cardinals. I think his size and skill set would be both the best pick for the Cardinals, and the safest. Even if he doesn't develop into a top level pass rusher, he has the ability to play the position, i.e. play against the run, and has the athletic ability to have some coverage skills. Thus above all this is my pick.
Players like Trae Waynes (who would make our secondary down right dominant), Danny Shelton, Randy Gregory, and Eric Hendrick fell to the Cardinals rarely, but they did in fact fall to their pick. As for players that were available on a more regular basis, I think Eddie Goldman would be a good NT for the Cardinals, Cameron Erving would be a great depth guy for the questionable interior line, while Ereck Flowers, who has played guard and tackle would be great depth not only for the interior of the line but would be insurance if the Cardinals cannot resign Bobby Massie next offseason.
2nd Round:
Stephone Anthony falling to this spot would be amazing luck for the Cardinals, I think Anthony is the second best linebacker in the draft behind Hendricks, and Anthony may be a better fit as well. From what I have seen from Anthony he reminds me of Bobby Wagner on the Seahawks. Anthony would be able to play both positions on the interior.
P.J. Williams off field issues may have him drop to us, and would fit in nicely with the secondary, Nate Orchard would be a pass rush specialist, and with the risk because pass rushers are hard to find. Hauoli Ki'Hara is a big risk to pick in the second round, and I have seen him all over 1st to UDFA on boards. An interesting choice that came up more than I thought it would is Carl Davis, a nose tackle that would be great depth for the position. I should also state if the Cardinals are going to pick a "work out warrior" at cornerback I like Jalen Rollins over Byron Jones.
3rd Round:
Out of all the picks on my mock draft, I feel this is the least likely to happen. I have two running backs here, I really like Jay Ajayi because he can do everything well, and most importantly can run inside the tackles with some power. I doubt he is there in the 3rd round. The same goes for Tevin Coleman, who just put himself on the map with his pro-day numbers, yet he is coming off injury. Again Coleman is going to run with power, and he runs very much like a Frank Gore/Carlos Hyde, plain angry at the world.
I like Denzel Perryman here as well obviously, he would be our "thumper" inside linebacker the Cardinals are looking for. Tho Lorenzo Mauldin was available more than Za'Darius Smith, I like Smith's skill more for the Cardinals outside linebacker position. I don't know if either is an NFL talent as a pass rusher but you have to take some risks in order to try and find pass rush talent where you can, especially if the Cardinals can't get a pass rusher in the 1st two rounds. Kwon Alexander is a very small linebacker and where he would fit on any NFL roster is question, but he has speed. Then there is the "Bodha Barf Pick" Clive Walford. I completely understand that the Cardinals do not use a tight end much in the passing game, but they do in fact use the tight end a lot for blocking purposes. Walford is a very good blocking tight end, and the bonus is he can also be a decent threat in the passing game. He is one of the few tight end that would fit the Cardinals scheme. As the data shows, I was high on Josh Shaw for a while, but I have since cooled off on him, I don't think he is a cornerback in the NFL.
4th Round:
Eric Rowe is a great athlete who has the size to play on the outside in the NFL, but his speed is a bit questionable, and he is raw. Still, for a 4th round pick, and for what the Cardinals are looking for Rowe fits the bill.
Markus Golden is an interesting player who I have seen all over draft boards, I believe he would be available in the 4th and maybe even in the 5th round. Again, pass rushers are hard to find and with a 4th round pick its worth the risk. I really like Ramik Wilson, and I don't know if he will last till the 4th round but if the Cardinals are still looking for an inside linebacker in the 4th and Wilson is there, then he would be great value, as that "thumper" inside linebacker, for the Cardinals in the 4th round. Andy Gallik is one of the few interior linemen in the later rounds I like for the Cardinals, and David Cobb would be worth a flyer here in the 4th round as well, but I don't know if he would be any better than Stepfan Taylor.
5th Round:
Ty Montgomery. Next. LOL, no really I like Ty Montgomery for the Cardinals. Wide Receiver is a wild card because Michael Floyd had a "questionable" year last year, do the Cardinals need a big time wide receiver for the future? Valid question, but I think Michael Floyd is just fine as being the top wide receiver on this team. With Larry Fitzgerald back, John Brown, and Jaron Brown still on the roster, I feel the Cardinals can wait another year at the position. Not to mention wide receiver is going to start being devalued like the running back position since the market is just FLOODED with talent at thee position in the NFL. Thus Ty Montgomery is a great pick for the Cardinals. An electric return man, who has a lot of work to do, to become a wide receiver when it comes to running routes, yet he is dangerous in open space (think screens). He would fit perfectly at the 5th WR spot.
A few other players I like at this spot is Justin Cox, and Lorenzo Doss two cornerbacks that have the potential to play on the outside, and would have some value as depth players. Jake Ryan who has good speed, so if he cannot handle playing inside linebacker would be good on special teams. Tiawan Jones, and Lynden Trail are good boom/bust prospects.
6th Round:
Derreck Lott, again, would be a great fit for the Caridnals. He has good power, quickness and technique. I could see the veterans on the Cardinals helping Lott become a player that could play DE in the 3-4 and DT in nickel packages. There is a lot of potential with Lott, but the question is if he translates to the NFL. If he is there in the 6th round, I would hope the Cardinals would jump on him. I expect him to go much sooner than the 6th round.
Ellis McCarthy. Total lazy bastard of a nose tackle who has all the talent in the world to be a 2nd round pick, but is that lazy. Even in the 6th round he would be a risk, but if you could get his head out of his ass, he could be a force for any team in the NFL. Craig Mager is a cornerback who I just like his game, a fierce competitor and good skill. He is the kind of depth you want in the NFL. Nick Boyle is a giant tight end who can block, he would be like a Darren Fells type tight end. Xiaver Dickson is a decent outside linebacker who has experience playing the position, reminds me of Sam Acho.
7th Round/UDFA:
Because the Cardinals have the "Mr. Irrelevant Pick" a good number of the players I have listed could be had as undrafted free agnets (UDFA). I will do a quick blurb on each:
Jemarcus Nelson, WR/KR
- As fast they come, but rail thin. Would have value as a return man for the Cardinals
John Crockett, RB
- Small school running back with a big time personality. You can question his size, and maybe his skill, but not his productivity. If the Cardinals miss out on running backs throughout the draft, he may be a steal in the 7th round.
Tyeler Davidson, NT
- I have seen him high as the 3rd round, but in most simulated drafts he was available in the 7th and even as a UDFA. Has all the potential you could ask for to play NT in the NFL.
Xiaver Williams, NT
- May not have the size to play NT in the NFL, but he has great strength, and athleticism. Worth the risk this late in the draft, and has the potential to play in the NFL. Very raw as a football player.
Justin Coleman, CB
- A good depth player to play in nickel and dime packages. An all around good football player but does not excel in one skill or another. Yeah, the whole makes him good enough for the NFL.
Marcus Rush, ILB
- A special teams LB, that could develop into a depth player, especially in passing situations.
Gerald Christianson, TE
- Big blocking tight end.
Curtis Riley, CB
- A cornerback with good size, and may have the abilities to play in the NFL, at best even be depth for the outside CB position.
Jaxon Shipley, WR/KR
- With Tedd Ginn, Jr gone (thank goodness) the Cardinals need a return man, and Shipley is a return man.
Edmond Robinson, ILB/S
- Has the potential and athleticism to become a player of worth in the NFL, but VERY raw, and doesn't really have a position.
That's it.
On with the draft!