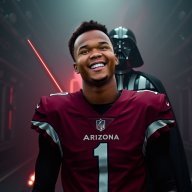 Joined

May 28, 2002
Posts

6,715
Reaction score

2,570
Plummer may be old news, but I decided to email him because he was one of the few writers that isn't glowing over plummer and the broncos...His reply will be first...then what I wrote.
Plummer will have a much better team around him and more stability in the organization/on the sideline, but I still don't think he has what it takes to be a star QB. There is just something missing. He will have to avoid poor decisions and see the action develop better. It hasn't happened yet, and he isn't exactly a rookie anymore. And as you said, he did have some talent around him in Arizona. Time will tell.
Chris Bahr
Community Editor
The Sporting News
Here is his article
http://www.sportingnews.com/sportsbahr/20030306.html
Here are the responses he got
http://www.sportingnews.com/sportsbahr/20030307.html
Here is what I wrote....(wasn't picked)
You are right..Plummer is average at best...Most likely backup material in my opinion.
When a qb has David Boston, or Rob Moore, and Frank Sanders, Freddie Jones, and a great offensive line...during his years there and can't get it done...it should make you go hmmmmmm
Then, when the QB is part of an offense that went 1 1/2 years without a first drive td...it makes you go hmmmmmm
Also, when you consider his bonehead plays put the cardinals behind, or even more behind in MANY of their losses, and tell us for 4+ years he needs to quit making stupid decisions...yet doesn't.....it makes you go hmmmmmm
Next, when a qb can't read defenses, can barely throw a spiral, and absolutely, positively ducks,(not wobbles), ducks (the kind after you shoot a duck in duck hunt) 50-60% of his passes over 35 yards...it makes you go hmmmmm
Finally, when the offensive coordinator tells you ...just look at one half of the field to a six year vet...and the broncos sign this guy for 7 years and 40 million...It should make EVERYONE go hmmmmmmmm
I wish him luck, but the grass isn't greener on the other side..especially when that grass grows in desert Phoenix. Metaphorically, and Jake Plummer QB wise.