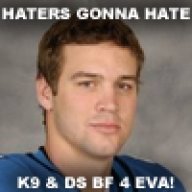 Joined

Apr 30, 2003
Posts

30,484
Reaction score

4,846
Now, now, calm down, no need to throw things and bash on that keyboard, this is just for the sake of bringing up players.
Yes, I know "that guy won't be there when the Cardinals pick in the 4th round.", and that you will "never watch another Cardinals game" if they choose Petey O'Neal out of a South Carolina East-West state. It is for fun and for the sake of bringing up a few names that are interesting.
The combine is going to be going on in the next two weeks, and then everything will change because player "X" can run 0.0025867th seconds faster then he thought, but maybe at his pro day we will see something different.
In the end its football. But, I digress from my nonsense.
What is different this year, is our offense. I will put away my wet blanket about how I believe the Cardinals made a huge mistake buying into, what I believe is hype this offseason. (cue Dvontel apologizing for not hiring Jim Caldwell, it is OK, you and the Cardinals are forgiven by the way
).
On that note, I should state, I think the Cardinals are very wise for buying into the movement that football is going to be more or less what you see in college football. Yes, it is a change, but this game of football is known for change. Just compare a football game from 1970 to 2019, that is a lot of change. Edit: My concern is that the Cardinals are sacrificing chemistry, experience, leadership, and really showing to be, dare I say, naive when it talking about the difference between coaching in college, and coaching in the pros. There is moving towards something and there is over shooting your target, I feel the Cardinals have done the latter.
Why start to lean toward playing the "college" type game, because these younger players have grown up playing that type of game, heck, that IS football to them. I really enjoyed Bruce Arians here in the desert, but there is a reason his QB's get destroyed, and there is a reason, in the salary cap era, he is never going to get that offensive line he "used to have". Those players are not coming out of college, and the pro style offensive lineman of 10 years ago, are retiring. Time with the players are shorter, practices are shorter, the athletes are bigger, stronger and faster thus contact results in more injuries, and the list goes on.
It is a simple question: "You want to spend 2 to 4 years training a player for the "pro game" or just switch your offense to something a younger player already has 8 years of experience in ?
It is a different time, a different game, and "gap integrity and fundamentals" aren't going to get your there, my condolences to the Browns defense by the way.
It is a good thing the Cardinals offense is barren of talent, because it needs to be almost completely gutted.
Defense, let's just hope Vance Joseph, whom the more I read about, and learn about, is as good a defensive coach as he seems to be. After all is said and done, that may be the bigger signing than our head coach.
Getting back to the mock draft, again, feel free to comment, critique, and have a fun discussion with it. It is all opinions keep in mind. Of course, if you want to say, I would rather see "X" drafted in round three please post that response! The more players discussed the better.
In a mock draft, I always have that balance of need vs. best player available. I am not an NFL scout, so this is how, I , would go about drafting.
Thus here are what I feel the Cardinals needs are:
*Outside Linebacker
- Spoiler, my 1st round pick, EVERYTIME, is Nick Bosa. While I do not think it will happen, a outside linebacker group of Jones, Golden, Reed, and Bosa would be quite formidable. If Golden walks, the Cardinals might as well just start contract negotiations with Bosa right now. I will get into why, below.
1. Wide Receiver
- Christian Kirk is a complimentary piece, IMHO. Put him in the slot, have him learn from Fitzgerald. Use him on the outside, as well, but again, prepare for Fitzgerald eventual departure. The Kingsbury offense needs a big physical receiver, and I will have one of Kingsbury's old college receivers mentioned below as an example. Personally, I believe the Cardinals need to draft two receivers (the free agent market this year is BARREN, FYI), and one of those needs to be what Chad Williams (who should be cut from the final 53 after the last 2019 preseason game) was supposed to be.
2. Cornerback
- It is a passing league. Even with teams starting to run the ball again, the pass sets up the run, in this league. If you cannot stop the pass, you are doomed. Signing Robert Alford was a smart pick up. He is a vet, he can play. That leaves, at least three more cornerback positions to fill on the team. David Amerson can compete for a spot, but Brandon Williams time has come. This team is going back to being a 3-4, and back to press-man. There is size to be had in this draft, and I hope after looking over that for the last 3 years, they finally bring in a bigger cornerback to play on the outside.
3. Inside Linebacker
- Sure, Haasan Reddick showed "improvement" last year. It is year three, and if he is not producing, then he is a bust, and should be looked at, as so. Keep in mind, the Cardinals are going back to a 3-4, and Josh Bynes, while a solid linebacker, is older, injury prone, and begs for another linebacker to be brought in. Inside Linebackers are like right tackles in the draft, there are good ones that slide. It is a position where there is a chance to get a very good talent in the 3rd round, or even after that. There are a host of linebackers chosen in the 4th, 5th, and 6th.
4. Offensive Tackle
- Sure, there is not a gaping hole like at receiver and linebacker, but DJ Humprhies, as much as I like the guy, is far from the answer at left tackle. Even if he has the talent, his body is not holding up. I really hope the Cardinals are able to sign Joseph Barksdale, and coupled with Cunningham and Wetzel, there is depth, but I think it would be a mistake not to invest into the position, if the opportunity arises.
5. Offensive Guard
- This is a weird position in the NFL. It seems to always be a need every year, for every team. It seems it is quite rare for a player to be good consistently year after year. It seems tackles in college are usually slide down to play guard in the NFL, and drafting a guard results in a player who was a "monster" in college getting thrown all over an NFL field. If you draft a college guard, he better be big, and not fat, but big. If not, draft a tackle that, has the ability to slide to guard. Again, it is a weird position.
6. Tight End
- It would be nice to have a game breaker, but unless that opportunity arises, keep in mind that Gresham, Clay, & Seals-Jones are on the roster. Seals-Jones has some experience, and while I as much as anyone am tired of hearing about "break out" seasons from tight ends, he SHOULD have some value in this offense. A need, but not glaring.
7. Defensive Line
- It is always a good idea to invest in the defensive line. Nkimdiche is as good as gone, he was a boom or bust prospect, he ended up being a bust. I would not be surprised in the least if Malik Jackson ends up on the Cardinals roster as it is all but certain that he is getting released. He thrived in Joseph's defense. Where I see some value at defensive line is someone sliding out of the first round, and the Cardinals draft them with the 1st pick in the 2nd round.
Positions that are in good/decent shape:
QB, RB, OC, Safety, K, P
Round 1 (Pick 1): Nick Bosa, DE - Ohio State
A premier pass rusher, who would make an immediate impact. Yes, it is a simple argument for, yes, it is boring, yes, it seems "too easy". That is the point, sometimes you get handed an opportunity, and you know what? YOU TAKE IT. Never got a medal in the mail for going about things the hard way.
The talk about scheme and coverage abilities, is much like the talk of Patrick Peterson's tackling ability, or how much anyone talks about Chandler Jones' coverage ability. Unless Golden takes a team friendly deal, this is the move good teams make. You replace the veteran who is going to require a higher salary with a rookie with comparable skills, and lower salary. Could the Cardinals trade back? Sure. If they can trade back and pick up a player like ILB, Devin White, or OT, Jonah Williams, I am all for it.
*Kyler Murray
- To touch on this topic, I think the team would be asking for trouble to pull a Terrell Suggs type mistake, to pick a very undersized (not just height but stature) QB. This would be doubling down on a HUGE risk of buying into a hype defense. If it works and they were to win a couple Super Bowls, I would be happy to be wrong. If it does not, you are talking about devastation of an organization. Say good bye to sold out stadiums, and hello to putting the organization back years, and with a CBA looming, when I say devastating, it would be an understatement. I think the Cardinals are taking enough risks, and yes, risks are necessary, but take enough of them, and why it is called risk, and not certainty shows itself.
Round 2 (Pick 33):
A. Andre Dillard, OT Washington State

B. Trayvon Mullen, CB Clemson

C. Deebo Samuels, WR South Carolin
a
Andre Dillard, would have to slide out of the 1st round to be there for the Cardinals to pick at #33, but he would be a real value. Good athlete, with quick feet, and what I like most is he can recover and adjust if he is put in a bad spot. Humphries has good feet (each injury they get a little worse, tho), and is a good athlete, not to mention a much better run blocker than Dillard, yet once Humphries is beat, he is beat. Dillard comes in, and can pass protect, and play either LT, or RT, and the hope would be some NFL training would increase his strength and help in the run game. Yet, it is a passing league and that is where he would have his value on this team.
Trayvon Mullen is another player that would need to slide out of the first round. He is a bit of a risk, because he is a better athlete than a football player. That being said he has speed, power, and has played in an aggressive 3-4 defense setting. When presented with him as an option in the second round it makes me pause, but it is talent that is too good to pass up, every time. I would like a physcially bigger player, but in the end, his potential would be scary to put across from Peterson.
Deebo Samuels is a player that I would be surprised, if he were not to be available here. I do want a bigger receiver for the Cardinals, but have my reservations about N'Keal Harry (Bruce Arians always said about big receivers, "Don't matter how big they are if they cannot get open). Plus didn't I just say I think Christian Kirk at 5'11, 200lbs is too small ? All that being said, Samuels is too good for me to pass up, here. Biggest reason are his hands, he catches the ball away from his body, has great quickness, and can run good routes. His build is a bit more stocky than Kirk, and has some ability to run after the catch. You put him on the outside, or the slot, it doesn't matter.
***
- If the Cardinals pick any of these players, I wouldn't complain: N'Keal Harry(WR), TJ Hockenson(TE), Christian Wilkins(DL), Cody Ford(G/T), Jawaan Taylor(OT)
Round 3 (Pick 65):
A. Chris Lindstrom, OG Boston College

B. Joejuan Williams, CB Vanderbilt

C. Tre Lamar, ILB Clemson


Chris Lindstrom is one of those players, a guard in college, that I could see having success in the NFL. Biggest reason is his technique and ability to see the field. Defenses in the NFL are attacking the middle of the offensive line, more and more. All the power and skill in the world doesn't matter if you do not see a stunt, and never move to block the guy. You would have to bank on Lindstrom's ability to get stronger for the NFL, he is not a guy like Cody Ford where size in not an issue. Lindstrom would have to fall quite a bit to be at this position for the Cardinals and it would be a steal to get this potential and at a place where the Cardinals have a current hole in the roster.
Joejuan Williams is that bigger cornerback that I like. 6'3" with good size, good speed, and his best asset for his size, his quickness. This is the type of cornerback you need to play press-man, to put on the bigger wide receivers, or need be a tight end.
Tre Lamar, it would be refreshing to see an actual inside linebacker at the position. He has the size, the speed, the skill, and the experience at the inside linebacker position. If his projected numbers hold up at the combine, then we are talking a linebacker that is in the mold of a Karlos Dansby. Where he may not have the coverage ability of a Dansby, he is more physical as a tackler. But, his play against the run and his pass rushing ability is there. He seems to be projected to be there in the 3rd round consistently, and I struggle to pass him up if he is there when playing around with draft simulators, if he is there in the 4th he is ALWAYS the pick. There is a need at this position, and it is time for the Cardinals to draft a good LB.
***
- If the Cardinals pick any of these players, I wouldn't complain: Lonnie Johnson, Jr(CB), Germaine Pratt(LB), Tytus Howard(OT), Riley Ridley(WR)
Round 4 (Pick 104):
A. Antione Wesley, WR Texas Tech

B. Lonnie Johnson Jr., CB Kentucky

C. David Sills, WR West Virginia
We now come to the part of the draft, where either players noted above are going to slide, or there are going to be some tall, big bodied receivers available for the Cardinals to choose from. Not to mention we are now in the fourth round, where the projected placement of players is almost laughable. Who knows where these players are going to be drafted, ESPECIALLY before the combine.
Antione Wesley, not even sure if he is my "A" choice at this spot, but he is the type of player that needs to be talked about. To lament Michael Floyd's fall from the NFL, if he were still on the Cardinals and took more interest in football than other things in life, he would be setup to be "the guy" in the Cardinals "air raid" offense. Antione Wesley is 6'5", and is a mismatch nightmare for NFL teams, that is IF, and that is a big IF, he has the speed to do what he did in college in the NFL. The plan in Kingsbury's offense is to get a big, physical receiver one on one and take a page out of Bruce Arians philosophy and throw the deep 50-50 ball. The odds say you have either a catch, PI penalty, an incomplete pass, or at worse an INT far down the field. If Randy Moss or Calvin Johnson were playing today they could potentially go for 2,500 yards, and 25+ TDs in this offense if run/executed. So, Antione Wesley's 40 time, and speed are what will make or break him at this position.
Lonnie Johnson, Jr., is much like Joejuan Williams, but a little less polished. One thing is certain, teams stayed away from him in college, and the guy playing across from him was 6'4" as well. Good speed, and size, with a little less quickness than Williams, but again, is that larger cornerback that would suit the current system well. I have seen him climbing up the draft boards, but would be hard pressed to take him in the 3rd round instead of the names I have noted above. He would be a good value pick at this spot.
David Sills is a player that I am putting here because, and this may sound like I have things backwards in my rankings, but seems to be a little more polished, than most of the larger, deep threat wide receivers I see in the draft. His speed is a little less of a question (yet still has to be proven, it is not a given), but still is that 50-50 jump ball threat. Where Wesley has an advantage, tho slight, is his familiarity with what the Cardinals want to do on offense.
***
- If the Cardinals pick any of these players, I wouldn't complain: Hakeen Butler(WR), Isaiah Johnson(CB), Jamel Dean(CB), Rashard Lawrence(DL), Kaleb McGary(T/G)
Round 5 (Pick 140):
A. Renell Wren, DL Arizona State

B. Josh Oliver, TE San Jose State

C. Preston Williams, WR Colorado State

D. Ryan Connelly, ILB Wisconsin
This is the second to last section, because after the 5th round it is more or less getting a start on your top UDFA list, not to mention it is six picks total between the 6th and 7th rounds!
Renell Wren the size, and the skill to be the rotational defensive end in the 3-4. He has strength and quickness, and the potential to be even better than what he was in college. The defensive line group, at least for the 3-4 defense, starts to get to that point where its a needle in a haystack situation on finding NFL talent. Wren has the talent and potential, thus why he is worthy of a 5th selection, IMHO.
Josh Oliver is a pass receiving tight end that could very well translate to the NFL. He can "block" and one would have to see a vast potential difference in what the Cardinals have in Rickey Seals-Jones, but if the Cardinals offense needs some pass catching ability at tight end, this is the end of line in this draft to get one, IF Oliver even slides this far. As with most tight ends at this point you are getting pass catchers or blockers, and Oliver would have to improve his blocking. Yet, make no mistake, he could be a mis-match in the passing game, and Rosen loves his seam passes.
Here is my sleeper in this draft. Preston Williams has the size, and I will not be surprised if he shows he also has the speed. Good hands, and great concentration on the ball when it is in the air. He had plenty of production when given the opportunity in Colorado State, and I feel he is a prototype for the wide receiver the Cardinals want for the air raid offense. Where Williams will be drafted, heck IF he gets drafted is a mystery at this point, and I have seen him ALL OVER draft boards. If the Cardinals pluck him at this pick, I think it would come back to be one of the best picks in he draft given the position he may find himself in.
One more before the big finish, Ryan Connelly, is that prototypical late round linebacker that ends up starting for your NFL team because the long and short of it, he hits all the criteria to play in the league. Experience, production, instincts, the right size, the right speed, and can just play the position. At worst he has the speed for special teams, at best, he ends up being the replacement for either ILBer position if Bynes is hurt, and Haason Reddick is a bust.
***
- If the Cardinals pick any of these players, I wouldn't complain: Justin Layne(CB), Terrill Hanks(LB), Cameron Smith(LB), Vosean Joseph(LB), Terry McLaurin(WR)
Rounds 6 & 7 (Picks 175, 180, 209, 250, 251 & 256):
Top 12:

1. Oli Udoh, OT Elon
NFL strength, but is he quick enough ?
2. Kingsley Keke, DL Texas A&M
Has the look of NFL rotational player
3. Keaton Sutherland, OG Texas A&M
NFL smarts and skill, is he strong enough ?
4. Michael Jackson, CB Miami
Good size, measurables, and the potential is there.
5. B.J. Autry, OG Jacksonville State
NFL strength, but is he quick enough ?
6. Tre Watson, LB Maryland
Has the speed and size, but what about knowledge/instincts?
7.Gary Jennings, WR West Virginia
Is he as fast as he looks?
8. Jamal Peters, CB Mississippi St.
Is a good football player, does he have NFL skills?
9. Jordan Brown, CB South Dakota St.
Does his college production translate to the NFL?
10. Derek Baitty, CB Kentucky
Has the size and speed, but how good of a football player is he?
11. Jamarius Way, WR South Alabama
Good size, does his college production translate to the NFL?
12. C.J. Conrad, TE Kentucky
No doubt he can block, is his receiving enough to be drafted?
13. Ventell Bryant, WR Temple
Good size, does his college production translate to the NFL?
14. James Gardner, WR Miami of Ohio
Good size, does his college production translate to the NFL?
15. Khalen Saunders, DL Western Illinois
Does his college production translate to the NFL?
Last edited: