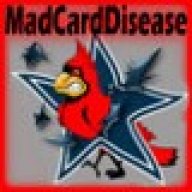 Moderator
Moderator
Supporting Member
Joined

May 13, 2002
Posts

19,151
Reaction score

9,553
Location
With the 2014 season in the books it's now time to look at where the Cardinals should go from here. That means Keim and company need to look at what they have currently on the roster and where they could possibly make moves. The projected 2015 Salary cap is around $140M. That would put the Cardinals currently about $11M over the cap. Here are the Potential moves where the Cardinals could free up some cap space:
Larry Fitzgerald - His contract is the Elephant in the room. There is zero possibility that the Cardinals keep Larry with his current contract. Either Larry takes a pay cut or they cut him before his roster bonus is due. I can see the Cards keeping him at $8-10M per year. Cutting Larry before his roster bonus is due would save the Cardinals about $9M
Darnell Dockett - At 33 years old and coming off a major knee injury there is no way the Cardinals keep Dockett at his current salary. So either the Cardinals reduce his salary or the out right cut Dockett. No other player on the team bleeds Cardinal red like Dockett. However much like it was painful to release Adrian Wilson it may be time to let Dockett go unless he is willing to play for about $3M this year. Cap savings of $6.8M.
Daryl Washington - What could have been... It still infuriates me that a player could be so selfish and stupid. However the fact remains that he is still the best player on the Defense when he is on the field. I fully expect him to get another 6 game suspension for his domestic dispute case. With that said cutting Washington actually costs the team money. We are stuck with Washington and just have to hope he doesn't do anything else that will cause him to get into trouble.
Jerraud Powers - Powers has been a great pickup but his salary is scheduled to go up this year. Cutting Powers could save the Cardinals $4.25M. I like Powers and think he stays but if the Cardinals need to find money somewhere Powers could get the axe.
Ted Ginn Jr - I didn't like this pick up in the offseason. He is pretty much worthless as a WR. His value is in the return game and he showed very little in that regard. Cutting him would save $2.5M.
Lorenzo Alexander - In the final year of his contract, Alexander hasn't shown enough to warrant keeping him on the team. Cutting him would save $1.55M and that money would be better used elsewhere.
John Carlson - In the final year of his contract Carlson could be cut if the Cardinals have their sights on another TE. Cutting Carlson would save $1.6M against the Cap.
Lyle Sendlein - I don't see the Cardinals getting rid of Sendlein. However if they did become desperate for cap space they would save $3.15M by cutting Sendlein.
Ted Larson - Another player who I don't see going anywhere. The ability of Larson to play both center and guard is very valuable. However if the are desperate for cap space they could let him go and save $1.6 against the cap.
If I were Keim I would cut Powers, Ginn, Alexander and Carlson. That would save $9.9M against the cap. I'd approach Dockett and see if I could get him to take a pay cut and save another $4.5M which would bring the total savings to $14.4. Finally I would cut Fitz and save that $9M. By making these moves you would enter the offseason with around $10-12M to work with. Losing Powers and Fitz hurts. However Keim has proven that he and do a lot with little.