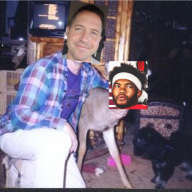 Joined

Jul 21, 2002
Posts

32,212
Reaction score

26,198
Location
We certainly have a chance to have a 24 draft similar to what Houston had this year, but hopefully even better.

I think the ideal is Kyler plays well enough you don't trade him and then you have all the leverage with the top pick for someone who wants Williams or Maye, get Harrison Jr with the 2nd pick, get more help with that trade package for the first pick and improve the team in a ton of places.

If we have to pick a QB it likely means less in return because it would mean Kyler didn't play well enough and has less trade value than the #1 overall pick.

I'd really like to end up with Harrison Jr in the draft and the other first round pick ideally would be either another OT, or an elite edge. I just don't see an edge that elite right now I think Verse is too small and not sure who else there is. I really hope such a player emerges during the year.
Verse is pretty much the same size as Anderson Jr. was and he had higher pressure rates, higher pass rush win rates.
That islander kid from Ohio State might end up being the best of the bunch by year end or go with Newton from Illinois who was a monster last year at DT.
I agree with your best case scenario. Imagine the haul the Cardinals could get for a Maye/Williams pick?