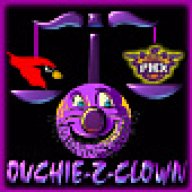 Joined

Sep 16, 2002
Posts

38,955
Reaction score

21,917
Location
By the KTBGS (Krangthebrain grading system), Simmons got like an 80.

My grading system is similar to PFF except I give big weight to splash plays and Simmons made a few of those.

The problem with PFF is that a yeoman guy who is always in the right position could score a 80, while a guy who wasn't in the right position all of the time but made 2 big plays could score a 65. Thats why you'll routinely see guys that are only ok score high. I remember one game where Zach Allen scored really high and he didn't really do squat in a loss.
While you're not wrong there's power in having a collection of "yeoman guys" who are always in the right position. In fact, with the right coach that could become all you need. An example imo exists with the Patriots. Over the years they've had a stud here or there on defense but it's never really been what I would call a star studded defense. I mean they cast off the Richard seymores and chandlers joneses of the world and kept on defensively. Why? Because they had the tedy bruschis , and Eugene Chung's "yeoman guys" that bought in and played their positions.