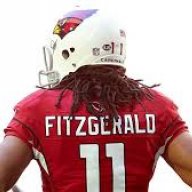 Crawled Through 5 FB Fields
Joined

Aug 10, 2005
Posts

13,405
Reaction score

2,982
Location
1. I feel much like BA. I am really going to miss watching this Cardinals' team develop and grow. I feel much like Catfish does as well about this being the most enjoyable season. Much of it has to do with suddenly feeling such strong confidence in the coaching, the players' commitment, the genuine family culture, the no b.s. post game pressers, the no "I am bigger than the team" attitudes, and the fact that the team came to play every game, not just when they wanted to...which was a real bane and frustrating tease of past teams. I think this team deserves to be in the playoffs and that the league should reward any 10 or 11 win team with a playoff berth. It would simply mean eliminating one of the byes and it would give teams in loaded divisions like the NFC West added incentive to win.

2. I think this year we will see just how much Larry Fitzgerald wants a ring. He will need to restructure his contract in order to help the FO create the necessary cap room that will allow the team to retain key core players and to add a few key new free agents. Not just Larry, but Dock and perhaps some others.

3. I would like to see Steve Keim reward John Abraham with a new 2 year deal at double his current salary. Not only does Abraham deserve it, it would send a very strong message to incoming veteran free agents. In other words, "you come in and give us a Pro Bowl year, we are going to see to it that you are rewarded."

4. I may be the only one who feels this way...but, as much as I love Patrick Peterson as a cover CB, I do not feel he deserves a record setting new contract until he shows a genuine interest in tackling and, when needed, in getting back to being the most electric punt returner in the game. I just get the sense at times that Patrick is in his own little world out there and that he doesn't really want to do any of the dirty work. I call that playing in a tuxedo. Which in his case fits as well because it looks very clearly like he's trying to ease his way into that new fat contract, when others around him are packing the punches. Say what you will about Rashad Johnson, but here's a guy who lost half a finger and did you see the stick he made on Frank Gore last Sunday? The other thing is---having watched the Honey Badger do his part on the football field this year, I think HB is better football player than PP. Not a better athlete obviously...but he's always totally in the moment, he is dogged in coverage, he is super instinctive, smart and cagy, plus, in my opinion, he's the best take down tackler on the roster, at his size no less. As good as PP was in coverage this year, he underachieved in other key areas of his game.
PP has another year left on his contract. His cap number for 2014 is $5.87M. He wants Darrelle Revis money which is $16M a year. In a year where the Cardinals need to create cap space, why not wait another year? If the Cardinals have to, they can use the franchise tag on him in 2015.

5. Two lunch pail guys that I would love to see back are DE/OLB Matt Shaughnessy and RT Eric Winston. They helped transform the Cardinals into the most physical team it has been in ages. Shaughnessy had some bounce to him on the edge that was surprising. His physical strength on the edge was impressive. I think that with a year of training, Shaughnessy could come back a little lighter, quicker and strong as ever. As for Winston, I singled in on him many times even during the games and I have to say, he packs a punch---and what may be undervalued about him is his leadership and how it helped to solidify the unit. The Cardinals were able to go toe to toe with the Seahawks and 49ers because of guys like Shaughnessy and Winston.

6. Karlos Dansby deserves to be rewarded with a 2 year contract in the neighborhood of $5M per. Like Abraham---double his salary. I think we legitimately have a two year window to make a run for a ring. Signing Dansby and adding another year to Abraham would be key moves. Hopefully Dansby has already realized that there is no better place in the NFL for him than in Arizona. The defense he is in is perfect for his game. Perfect.

7. Johnny Football---wow. Last night I was thinking that Manziel has the arm of Joe Namath, the elusiveness of Fran Tarkenton and the intensity of Drew Brees. Like some others here who have already stated this---I cannot see how the Texans wouldn't snap him up at #1. Let's put it this way---they would never have to worry about selling their stadium out. The fan frenzy this would cause would be epic. Now---like others have said, Manziel needs to learn how to avoid the big hits, a la Russell Wilson---but, Manziel gets so fired up and plays with such an edge, you just know that there will be times that he will push the limits.

8. The Rams at #2 have already said they want to trade out. In my mind I am begging for this to happen. There is nothing electric about Sam Bradford's game and demeanor that suggest that they can win a ring with him. Bradford, imho, is a slightly more talented Marc Bulger. With the offensive speed they have accrued, were they to draft a QB like Teddy Bridgewater, watch out. Blake Bortles even.

9. I think it is quite possible that Carson Palmer will be the best and most productive QB in the NFC West next year. I say this because, as nice of a ride as Russell Wilson and Colin Kaepernick have had thus far, the game planning for them is going to get more concerted---both their stud RBs are aging---and they both have managed to avoid the big injuries as of yet. Young QBs can feel invincible for a while---but how long can that last? Plus, the pressure of winning starts to wear on young players. Palmer has taken his lumps...he knows how to manage the pain...and he has what neither Wilson nor Kaepernick has: years of experience. Moreover, it is very likely that there will be new OCs in Seattle, San Francisco and St. Louis---as Darrell Bevell and Greg Roman could leave for HC jobs (Bevell, imo would be a great fit in DC, and Roman in Minny) and Brian Schottenheimer has been under scrutiny. What excites me too, is that the reason why BA had Patrick Peterson on offense this year was because he was unable with all the other needs to draft early for a speed WR. He was hoping to make something out of Josh Cribbs, that is until Cribbs couldn't pass a physical. Ryan Swope was a 6th round hope, but, alas, was not an answer. Brittan Golden had a couple flashes, but it's unlikely that BA sees him as a long-term answer. Therefore, this year, BASK are going to try to add two speed WRs and BA is going to use Ellington at WR some of the time too. In addition, there will be an upgrade at TE. This offense is going to play much faster than it did this year and Palmer is going to feel like a kid in a candy store.

10. It will be interesting to see what Steve Keim does to address the secondary. One of the key addition this off-season will be in finding a legitimate DB with the size and speed to cover TEs. This is an issue around the league for so many teams now. Big CBs are in vogue and the good ones don't grow on trees.
Last edited: